In-Depth Review: Sliders Kevlar Jeans 3.0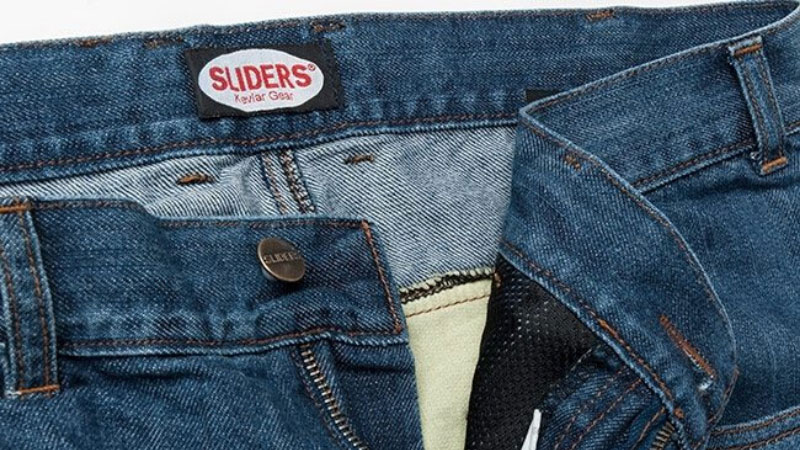 Protective riding jeans are a hot commodity in the motorcycling apparel world.  Simply put, a lot of riders want protection, but don't always want to pull on leather or fully armored Cordura. 
The Sliders Kevlar Riding Jeans 3.0 are an outstanding product.  They are constructed of high-quality 13.5 ounce denim.  The protection comes in the form of genuine Dupont Kevlar in the knees, shins, seat and upper hams.  That is remarkably full coverage.  I have tested nice riding jeans made by the big names in motorcycle apparel that don't have that level of Kevlar coverage.  Even the Alpinestars Rodeo jeans that I really like (and reviewed for AAB) don't have the Kevlar seat protection that the Sliders do.
The Sliders jeans have a subtle construction that really looks similar to regular jeans.  Only the seams above the knees that secure the inner Kevlar give any indication that these are motorcycle-specific jeans.
Okay, so I can give these jeans a full visual inspection – and I like what I see.  However, I am not going to crash test them (at least not on purpose).  I did a search of the reviews on the Competition Accessories site to see if any customer reviewers had "slid" in the Sliders.  Take a look at these two testimonials by separate riders:
One rider reported, "I slid approximately 20 feet with my HDXL on top of me. I was bruised from the impact on the pavement however I did not receive a scratch nor did the Sliders even tear."
Another rider said, "I had to take evasive action to the right into the loose gravel and lost control when getting back on the pavement. I was travel(ing) 30 to 40 mph. The Sliders did a great job and didn't even rip through the denim while I was sliding on the pavement and gravel. I would recommend them to anyone wanting protection in a jean riding pant. My bike was totaled."
There are several other solid reviews on the Competition Accessories site by riders that have hit the pavement (http://www.compacc.com/index.cfm).
I have to say that I can't see a down-side to the Sliders Kevlar jeans.  Styling, fit, sizing options, and most importantly protection are all top-notch.  I say save your Levis for the mall, and wear the Sliders on your bike.
The jeans are cut in a relaxed fit and are available in a huge range of lengths and waist sizes.  Blue and black color options are available at under $80.