Is Backpack Safe When Riding Motorcycle?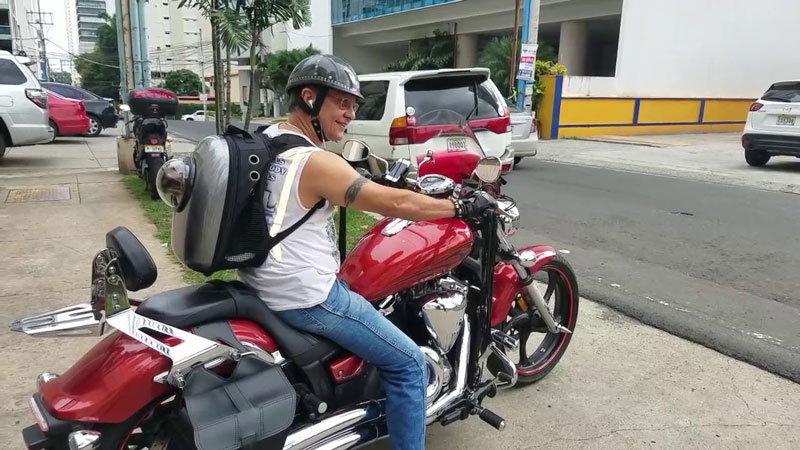 It's a common practice for nearly every motorcycle rider to carry their gear and other necessities in a backpack when riding their motorcycle. You just can't think of a better, more convenient, and practical way to carry your gear!
But have you ever wondered whether it's really a safe practice to carry your essentials in a backpack when cruising your bike? Join us below as we dig deeper into everything you need to know about your wearing packs and riding your motorcycle.
Benefits of carrying a backpack when riding a motorcycle
Backpacks come with a list of benefits that make them the most preferred option for bikers. We gathered the top benefits of using a motorcycle backpack as outlined below:
Convenience
A backpack offers you a quick and easy way to carry your things when riding your bike. You can't compare your backpack to other options like panniers, top boxes, or saddles, which usually come with challenges such as being big, bulky, and even challenging to install.
Peace of mind
Since you'll be wearing the carrier at your back, you won't mind about it falling off and losing your items.
This way, you can enjoy your journey with peace of mind knowing all your items are secure.
All-weather use
You can easily find waterproof backpacks that make your life easier as a commuter rider.
Such bags enable you to carry even the water-sensitive things inside regardless of the weather conditions outside, whether it's rainy, snowy, etc.
Cheap
Probably the main reason why bikers swear by backpacks is that they're highly affordable and accessible.
This means every rider can get a model that fits their budget and find it without struggling.
Why you might want to avoid carrying a backpack
As you can see, there are many reasons to use a pack to carry your things when riding your motorcycle. But again, this practice has been shown to be risky and unsafe for bikers—especially in the event of an accident.
In this section, we'll look at the main reasons why a backpack is unsafe when riding a motorcycle:
They can increase the severity of a crash
One of the main concerns about carrying a backpack when riding your bike is how they'd fare if you were to get involved in a collision.
Trust me; some backpacks would do you more harm than good. Case in point, if you fall on your back, it means that your pack will hit the ground first. And this can cause your spine to arch backward as you hit the ground, creating even more severe injury.
Not just the spine, your neck, and head are also at high risk if you wear motorcycle backpacks when riding. Some models feature hard shells, and if you crash and land on them, you could easily snap your head or neck.
What you carry inside the backpack matters
The things you stash inside that backpack could also increase or minimize the extent of injury caused to the rider. If you stash hard and sharp objects inside the pack, say tools, these could result in higher risk concern.
You don't want to imagine the sharp object piercing through your body in case of a crash.
Long story short, the stiff and sharp objects are less risky when carried in the tank bag than in your backpack. Also, avoid overstuffing your pack as much as possible.
Your backpack might throw you off balance
Another risk associated with carrying a backpack when riding a motorcycle is that it can throw you off balance. This is due to the poor weight distribution inside or the objects inside your bag shifting while riding.
Again, the best way to prevent this from happening is to carry small tools and objects in your tank bag to prevent them from rattling around. You can also put them in the zippered compartments of your backpack, where they'll be held in place.
Where possible, place the heavy objects close to your back and the light ones far away from your back to help achieve excellent weight distribution.
Backpacks create drag when riding
Some riders have also reported their bags, causing drags when riding on the highway. This is caused by the rapid airflow around the rider as they cruise their bikes at high speeds.
However, you might only experience this when riding your motorcycle on the freeway.
Using a backpack improperly can result in accidents.
"Improperly" in this context refers to not properly strapping your bag when riding your motorcycle.
This can result in an accident as lose straps can easily get hooked to any stationary or moving parts near your bike and make you lose control.
Good news—they make motorcycle-specific backpacks!
Now that we have seen the risks that come with wearing a backpack when riding your bike, what could be the solution?
Get a pack specially made for bikers.
Yes, the manufacturers have started coming up backpacks specially tailored for the motorcycle riders—you can check the top-rated models in these motorcycle backpack reviews—that play to your unique needs.
The backpacks usually feature a solid back to help reduce the drag that's often associated with carrying a regular backpack.
The key features of the motorcycle backpacks include:
Final Verdict
Although a backpack presents you with a convenient and practical way of carrying your stuff when riding your bike, you might want to think about the risks that come with doing so.
Most of these risks might occur because the regular backpack isn't designed with motorcycle riders in mind. To reduce most of these risks and stay safe on the roads with your motorcycle, we urge you to get a backpack specially made for motorcycle riders today.