Is It Safe To Pull a Trailer Behind Your Motorcycle?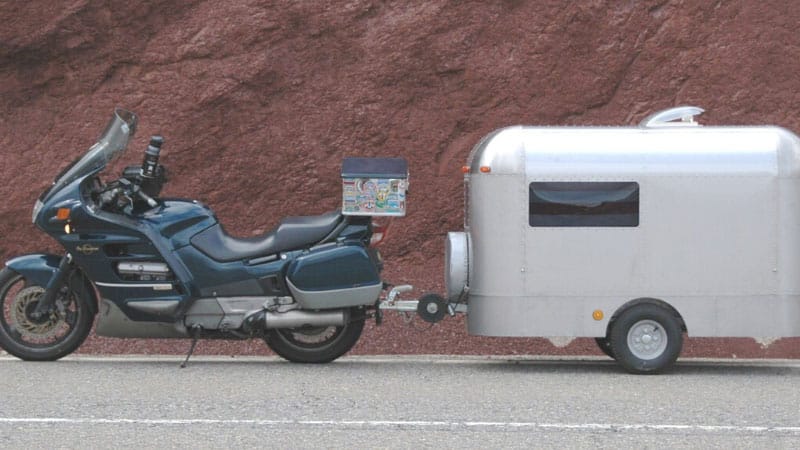 A motorcycle trailer is a good investment for motorcycle enthusiasts why usually do long distance rides. It enables you to expand your motorcycle storage space to easily carry all the stuff you wish to bring along.
However, the safety surrounding these trailers have been a hot debate in various motorcyclist circles and forums. Some manufacturers even state that their bike shouldn't be used to tow a trailer.
In today's post, we'll discuss everything you need to know about the safety of motorcycle trailers. We'll give you some top safety measures to consider when towing a trailer behind your motorcycle.
Is It Safe To Pull A Trailer With Your Motorcycle?
It's safe to haul a motorcycle trailer behind your motorbike provides you do it the right way.
Firstly, you need to ensure your bike is suitable for towing a trailer. You can do this by checking if it comes with a pre-installed hitch or if it's rated by the manufacturer (this is this quite rare).
You'd also want to ensure you don't attach a trailer that's heavier than what your bike can support. To be sure, you'll need to calculate your bike's total capacity…and then carry a trailer that weighs lower than it.
Hauling a trailer completely changes your motorcycle handling. If you're a newly licensed motorist, therefore, you'd want to take time to practice pulling your bike before you can hit the road with trailer. Ideal places for practicing include your neighborhood, empty park, etc.
With continued practice, pulling a trailer with your bike will feel easy. And when you eventually hit the road with a trailer behind your motorcycle, you'll be amazed at how easy it feels.
But before you hit the road, you need to keep in mind a few safety steps outlined below…
9 Safety Tips To Remember When Towing Motorcycle Trailer:
1. Invest in a quality motorcycle trailer.
Probably the first step to ensuring safe hauling of your stuff with your trailer is investing in quality trailer.
The ideal trailer should smoothly pull behind your motorcycle while feeling stable and tracking straight—a good suspension system will enable a trailer to achieve all this.
You should also check the size of tires that come with your new trailer. Models with bigger tires (around 12-inches diameter) tend to handle bumps and obstacles on the road better than smaller tires.
Where possible, consider test pulling the new trailer by attaching it behind your bike, try hitting a few bumps and pulling at a decent speed to get a clue how it's going to perform when you put it use.
2. Inspect your trailer before every ride.
Before you set off for that long trip you've been eagerly waiting for, ALWAYS make a point of inspecting your trailer to ensure everything is in good condition.
Start by checking if the hitch has any loose hardware or shows worn out signs. Inspect the tire pressure and wear. Check all the safety chains and cables. And ensure all the lighting is working correctly.
Be sure to pay closely inspect your trailer wheel bearings. Ensure they're in proper working condition, else they can lead to catastrophic failure. The wheels shouldn't become too lose or spin with wobble. If they produce any squeaking, cling, and grinding noise, the need lubrication.
Even when you make stops to refill, rest or take some food, make a point of re-inspecting everything. Better safe than sorry!
3. Inspect your bike too.
Not just your trailer…you should also inspect your motorcycle before towing a trailer behind it.
When planning to tow, you'd want to keep the tire pressure toward the maximum rating (i.e., use your bike's upper end GVWR), especially for the rear wheel.
You'd also want to inspect your bike shock and hitch.
Check the hitching ball in particular. It shouldn't show any signs of chipping, pitting, or wear, as these can significantly prevent the ball from pivoting freely inside your trailer coupler.
This can make your bike unable to lean correctly and smoothly when making turns—this could be a disaster in waiting!
4. Stick to your motorcycle weight limit.
Overloading your motorcycle is a sure to compromise your safety when towing a trailer.
After loading your trailer, you should check its weight using a proper scale to ensure it doesn't exceed your motorcycle's total capacity.
To check the tongue weight of your trailer, hook up a scale to its tongue/coupler, lift it up slightly and read the weight. It shouldn't exceed 10-15% of your trailer total capacity.
While still at it, you should ensure you correctly load your trailer for even safer trip. Put the heavier items at the bottom of the trailer and the lighter stuff at top compartment to help improve the handling.
Avoid placing too much weight in front of your trailer as this can cause your motorcycle not to lean properly. It can also lift your motorcycle front, affecting its traction.
Ensure majority of the weight falls on the trailer wheels and distribute any additional weight to achieve proper tongue weight.
Tip: If you've loaded anything into the trailer that moves around when you make stops or slow down, consider holding it down in place with the help of tie downs.
5. Hitch the trailer to your bike correctly (and securely).
Another important thing you need to do to safely haul your motorcycle trailer is ensuring you correctly attach it to your bike.
Most of the best motorcycle hitch carrier models out there come with couplers with adjusting nuts to let you control how tight the coupler clamps to the ball. Be sure to adjust this so that you leave a slight amount of gap.
Most of the trailer hitches also feature a hole for padlock. We suggest that you put a pin or screw through this hole to prevent the hitch from popping open during riding.
Confirm that all the safety chains and cables are secure. Check that lighting wires are properly connected and working properly.
Be sure to arm your trailer with reflectors to increase its visibility so that other motorists don't hit you from behind.
Quick Tip: Don't let the safety cables, chains and electrical wires hangs too close to the point of rubbing the ground. Where possible, choose cables over chains. The latter can rattle and make annoying noise when riding your motorcycle.
6. Watch your lane
And when you finally hit the road, you need to be careful how you position yourself on the road.
You already know that your trailer is wider than your bike, so you should make a point of riding close to the center of the road when you're pulling a trailer. This will help you keep your trailer on lane.
Keep in mind that at the center of the lane is where you're likely to find oils slick from passing cars, which further calls for you to exercise caution.
7. Making turns and stops
You'll also need to change how you make turns and stops when pulling a trailer behind your motorcycle for maximum safety.
If you wish to make a turn, make sure you do it a little wider to avoid dragging the trailer over curb. Moreover, ensure you make slightly limited lean angle when turning at speed.
When stopping, you'd also want to be cautious, given that your trailer doesn't have its own brakes. When stopping, always remember to allow for more stopping distance than you'd normally do when not pulling a trailer.
If you have to hand brake in an emergency situation, ensure you keep your bike heading as straight and upright as possible.
Quick Tip: If it's your first time towing a trailer, you might consider practicing braking with a trailer hitched to your motorcycle before you do the actual ride. A safe place, like an empty park, is great for practicing and perfecting your braking skills.
8. Park it right!
When you need to make stops or when you finally reach your destination, you'll need to pack your motorcycle with trailer behind it.
How do you do it correctly?
We recommend you to find a pull through parking spot which will help save you from having to back up with the trailer.
You'd also want to avoid parking lots and down isles that might force you to back up or turn around when you want to get out.
The perfect parking spot is one that lets you pull straight when you're leaving, not the one that force you to turn around or back up.
9. BONUS Tip: Never hitch an empty trailer!
Most bikers don't know this but if you try pulling an empty trailer with your, it'll bounce sway around on the road. This makes it highly unstable and unsafe.
If you're taking your trailer somewhere, make sure you put a decent amount of weight in the trailer, right over its wheels to make it stable and safe.
If you're transporting cargo with the trailer, also ensure you load it with a decent amount of weight on your return trip to help weigh it down.
Final Verdict
Like in any other aspect of your motorcycle, safety should always come first when it comes to towing a trailer with your motorcycle.
Pulling the trailer behind your motorcycle for the first time might like an impossible thing to do or a risky venture, but if you do everything right—from the installation to loading it correctly, making turns, stops, and parking it right—you'll have a safe trip with the trailer behind you.
The good thing about pulling a motorcycle trailer is that it becomes easier and natural the more you do it.
Follow our safety tips above for a safe hauling experience with your motorcycle trailer.