Lisbeth Salander's CL350 Café Racer in The Girl With the Dragon Tattoo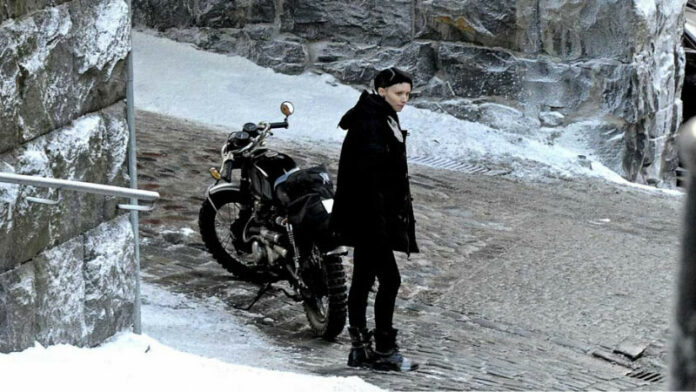 If the choice of bike had been left up to the producers, we probably would have seen a "murdered out" Ducati Monster or something of that ilk, which would have drawn much more attention to itself.
Instead, this decision was passed on to Justin Kell of Glory Motor Works, Los Angeles, who never doubted for a second that Salander belongs on a vintage scrambler.
A Real Vintage CL350
Anyone not familiar with bikes might just assume that Salander's beat-up CL350 was salvaged from a junk yard or found in a barn, and not give it any further thought. Of course the studio couldn't just go buy a late-60s Honda for a couple grand or less and call it good enough. There are a couple of reasons for this. For starters, a director of Fincher's caliber is not going to leave anything in his film up to chance. Secondly, the bike has got to run perfectly every shoot or the production is going to waste thousands of dollars in down time. It was this last reason that made Fincher hesitant to use an older bike, but Kell convinced him that he could rebuild and customize a classic that would fire on demand.
Kell decided on a CL350 café racer because he felt that this was the type of bike a young rider without a lot of cash would most likely have (all anyone has to do to confirm this is head over to the hippest part of town and it won't be long before an aspiring musician or artist with a full sleeve of tattoos zips past on a 60s or 70s CB). Once he got the green light from Fincher and his art department, Kell tracked down three low-mileage stock CL350s and began building the prototype.
Tearing It Down
Creating the bike's vintage café racer look was the easy part, as this primarily involves taking parts off the bike. Gone are the CL's original wide handlebars, pipe shields, air box covers and the box itself, front fork dust covers, emblems, and the stock seat. Salander's pared down bike features clip-on handlebars, a black powder-coated race tank, and a café racer-style seat covered in vintage leather. And for the final touch: some ratty looking heat wrap over the scrambler's high-swept pipes.
Building It Up
Upgrading the charging system was just the beginning though. As Kell told Bikeexif, "We replaced everything: new clutches, new brakes, new wiring harnesses and every fastener on the bike. The motors were torn down to the cranks, we trued the flywheels, did valve jobs and replaced pistons and rings." Just as Kell had promised, the bikes would be delivered good-as-new, if not better. Most impressive is Glory Motor Works' turnaround on these scramblers: three full rebuilds completed in just 30 days. No doubt they were working with a comfortable budget, but that in no way diminishes all the hard work Kell and his shop put into these stellar bikes.
On a film shoot, reliability is even more critical than looks.
So that there was absolutely no chance of losing time to a stalled bike, Kell and his team at Glory Motor Works built three of the exact same bike. However, each bike was built as if it were the only to be used. Motorcycles in films are fired up and killed hundreds of times a day, so each starter motor was rebuilt and three-wire high-output charging systems were installed to ensure reliable sparking. Additionally, the size of the battery box was increased to accommodate a higher amperage sealed battery.
By the time filming wrapped up, the trio of scramblers was sent back to Glory to be rebuilt for the second film. Considering that Salander steals $2.4 billion at the end of the first film, perhaps we will be seeing some serious upgrades to her bike in the next film.
Lisbeth Salander's Custom Honda CL350 in "The Girl With The Dragon Tattoo."