Long Way Round – Travelling Around the Globe by Motorcycle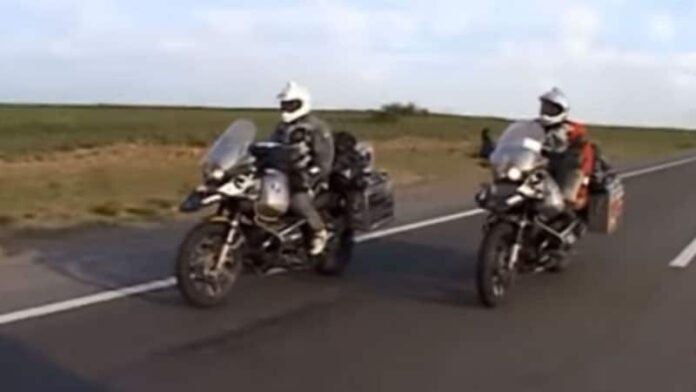 GIFT LISTS
Top Books to Give as Gifts
The "Long Way Round" is the most famous motorcycle book to be released in the last decade. Why? Well, when an A-List actor does something as crazy as a global motorcycle trip, the world seems to pay attention. (A Discovery Show documentary doesn't hurt either.)
A Long Way for Adventure
But the fascinating story of the "Long Way Round" has little to do with star power. Ewan McGregor and Charley Boorman are both passionate bikers with a lust for adventure — and they got more adventure than the average motorcycle traveler, you can be sure of that. Aside from the amazing scenery and environments, they also travelled through some dangerous and remote areas. They needed a customized GPS, specialized training from an ex-SAS major, and for a time they were accompanied by a security specialist.
McGregor and Boorman's motorcycle adventure takes them from London, across Europe, into the Ukraine, Kazakhstan, Mongolia, and Russia, across the Pacific to Alaska, then down through Canada all the way to New York. They completed a journey that most people only dream of: 20,000 miles over four months on their BMW R1150GS Adventure all-terrain motorcycles.
A Long Way on BMW Motorcycles
Their BMW motorcycles are already rugged, capable machines when they leave the factory but McGregor and Boorman modified theirs so they could better document their journey. McGregor and Boorman each controlled two cameras and they had a small monitor on their handlebars so they could see what they were filming. The result is a gorgeous collection of still photos and movies which, combined with diary entries, maps, and charts can be found in their book and documentary.
The "Long Way Round" isn't as philosophical as other motorcycle adventure books but it isn't trying to be. "Long Way Round" is a fun adventure that will take you via motorcycle to far away lands, see unmapped roads, and taste exotic foods.
Here's an excerpt:
"I just had one of the most extraordinary days on The Road of Bones. We started at 7:30 and we didn't stop for a break 'til 6:30 this evening. They were twelve of the most exciting hours of motorcycling I've ever done in my life... We were riding on mud, gravel, puddles, pot holes, rivers, and bogs. It was just everything thrown at us at once."
And if a lateral excursion around the globe doesn't do it for you, McGregor and Boorman also created the "Long Way Down," about their journey through Africa.
VIDEO
"Long Way Round" Documentary Trailer