Motorcycle Action Camera Mounting Positions: Tips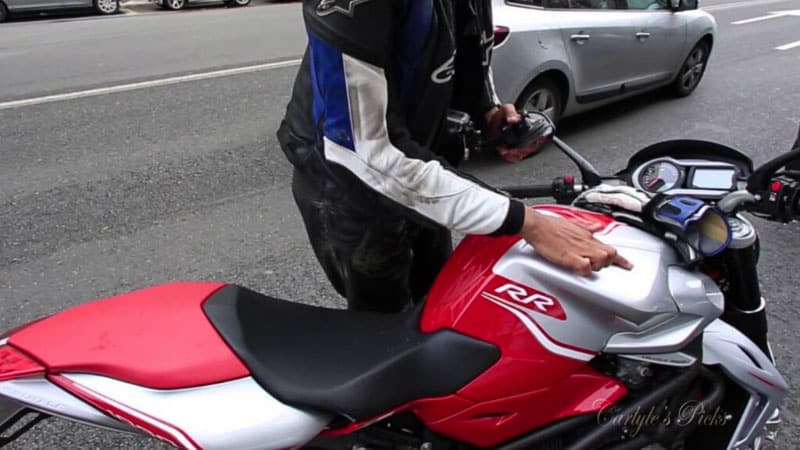 So you just got yourself a motorcycle action camera? And now you're wondering how and where exactly to mount it so that you can take those incredible shots and clips of your motorcycle trips?
If yes, you have come to the right place. There are numerous mounting positions for your action camera—and there are aftermarket camera mounts to help you accomplish these positions easily. For this post, however, we'll focus on the 7 best mount locations for capturing the WOW shots and footage!
The 7 Best Motorcycle Action Camera Mount Positions
Assuming you have your new action camera by your side, try out the positions below. If you don't have a camera already, check these motorcycle camera reviews for some of the top-rated models available you can buy today.
1. Top of the helmet
One of the most popular mounting options for a motorcycle action camera is at the top of your helmet. By placing your camera in this position, you're simply recording what you see as you ride your motorcycle. You can point the camera to the back to film fellow riders behind you.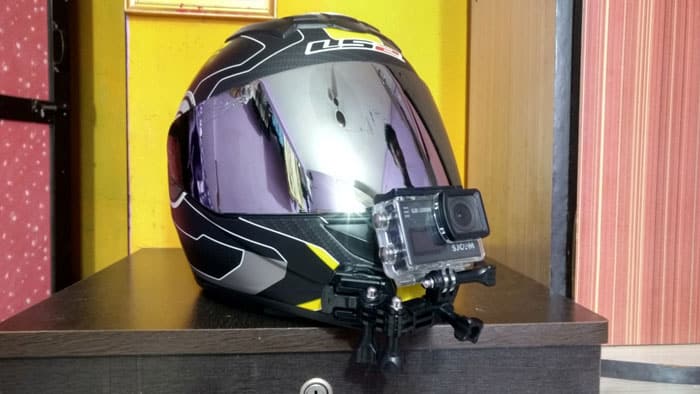 Pros:
This mount position gives you close to true pint of view (POV)
You don't need to worry about your bike vibrations affecting the camera recordings.
Cons:
This mounting location may look goofy and attract unwanted attention your way
Your head motion can distort the recordings
The top mount can create wind drags when riding at high speeds
The camera might get caught up in tree branches when riding off-road
2. At the side of your helmet
Another popular way to get excellent footages and shots of your rides involve mounting the camera on the side of your helmet. Installing your camera in this position gives slightly off-center angles recording.
Pros:
Offers you a lower profile compared to the top mounting discussed above
A side mount also gives you a close to true POV, though the perspective will appear offset
Your footage won't be affected by the vibrations of your motorbike
Cons:
Side mounting position can create wind drags when cruising at high speeds
Your head might feel heavier, leading to too much motion that distorts the footage
You might as well record part of your helmet with this mounting option
3. On your helmet, in the chin area
Still on the helmet mounting options, you might also consider pacing the camera on the chain area of the helmet. If you want close to the perfect point of view (POV), then you should consider using this option. However, keep in mind that your helmet must be able to accommodate for it to work.
Pros:
Of all the mounting options listed here, this one delivers closest to the true POV
Lowest, most aerodynamic profile; no wind drags at high speeds
Just like the two helmet mounting options above, this one too won't get affected by bike vibrations
Cons:
Might not work with some helmets
Moving your head too much might distort the filming
You might be forced to operate your camera upside down to successfully film in this mount location
4. Chest mounting position for action camera
As the name suggests, this mounting option involves strapping the camera on your upper body, around the chest area. You'll need to get a chest harness to enable you to mount your camera in this position. It's a great mounting option for bikers who want to record the operation of their bike handlebars and other controls.
Pros:
Captures close to POV footage, with handlebar and controls included
The camera won't get affected by motorcycle vibrations
Weight/drag is minimized
Operating the camera is quite easy in this position
Cons:
You'll need to buy a chest mount separately
Tank, fairing, and handlebars might block much of the view
Might feel uncomfortable to wear for some riders
5. Handlebar mount
If you were to pick one area on your motorcycle, even as a complete noob, you'll most likely choose the handlebars.
They just offer you a great mounting location of your action camera for all-around filming. Plus, mounting the camera this way places it near your hands for easy operation.
Pros:
Unlike the other options above, this mounting is off your body. And this means it doesn't add weight/bulk to you
The camera is easier to operate when in this position
Handlebar mounting location is pretty stable
Lets you capture gauge display if you like
Makes lower profile less negotiable compared to the helmet mounting options
Cons:
Your bike fairing or windscreen might block the recording
Since it has become part of your bike, the camera will suffer from the vibrations of your bike and ruin your footage
6. On the bike tail
For bikers who often hit the track, we suggest that you place your camera on the tail of your bike and face it towards you.
Why?
The camera will record your entire performance while out there. And later, you can review the footage and make the necessary adjustments, improvements the next time you hit the track.
Pros:
Your camera remains stable
Captures your body positioning and technique
Cons:
You'll block most of the shot since you'll have the camera directly behind you (however, you can fix this by setting your camera to maximum wide angle)
7. On the side of your bike
Craving for some great action footage?
If yes, put that camera on the side of your bike! This can be on the crash bars (most riders prefer to attach it here), passenger pegs, or the frame sliders.
Pros:
You can choose to point your camera forward or backward
Your camera feels stable
Unique recording angle, especially when you lean
Cons:
You'll only get to record footage from one side of your bike
Bike vibrations can affect the shots captured
Final Verdict
You don't need to be a pro photographer to capture the best shots and clips of your trips. You only need to know how to mount your action camera on your bike to take incredible shots. The 7 top mounting locations we have outlined above are easy to set up and will deliver fantastic camerawork to help you preserve your riding experiences and adventures.
Now that you the best mounting positions for your motorcycle action cameras, which one would you like to try first?