Motorcycle Boots Vs Shoes: Which One To Pick?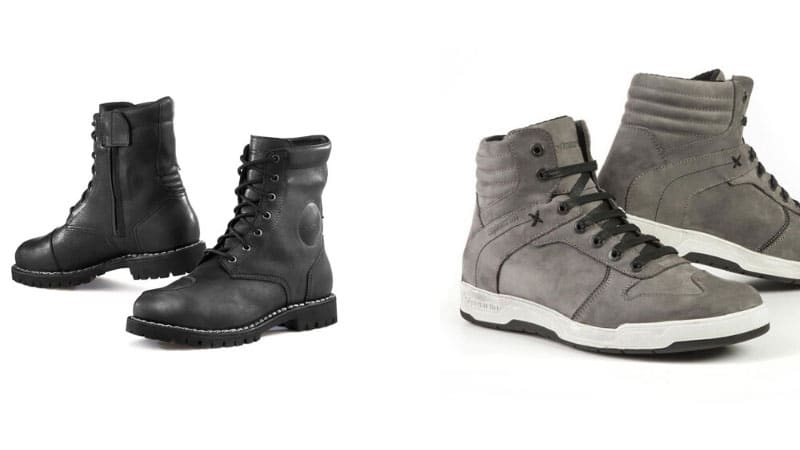 Trying to decide on whether to get motorcycle boots or shoes has never been an easy thing—especially for beginner bikers.
Most seasoned bikers will agree that a motorcycle boot offers you more protection. They cover your feet past the ankle to protect you against ankle injuries or exhaust pipe burns, which can affect your future rides.
While a motorcycle shoe doesn't offer much protection, they're safer than regular shoes. They make your feet comfortable when riding your motorcycle. And have the added benefit of being super-stylish.
So, what type of shoe is good for you?
Motorcycle Boots Vs Shoes
To help you get out of your shoe dilemma and decide on the right that matches your unique motorcycle riding needs, we'll look at the pros and cons of the motorcycle boots and riding shoes.
Motorcycle Boots
Boots are probably the most popular type of footwear among riders. But what really is the popularity all about?
Firstly, you need to understand that the boots, come specially made for motorcycle riding. They, therefore, come fully optimized for the ultimate riders' comfort and safety.
One area where boots excel—and what probably separates them from the shoes—is the high level of safety they offer you. This is because they go all the way up past your ankles. And this translates to the ultimate protection against exhaust pipe burns, crushing, and other potential road hazards.
Some boots are even taller than others, going up to the point of hugging just below the knee part to protect your calves as well. The taller they get; the more protection they deliver.
Regarding the comfort, these shoes also grant you the hardiness you need when regularly shifting your motorcycle gear, making your rides even more comfortable.
Note that the boots also tend to offer you a better, more aggressive fit; this usually appeals more to the sport bike riders.
The added features you'll get in the best motorcycle boots—see these motorcycle boots review—include toe sliders, shin protection, ankle support, waterproofing, and ability to replace parts like buckles, soles, and other moving parts for the ultimate longevity.
Since the boots come in different varieties, it's easy to get a pair that suits your riding preferences. The varying heights in these footwear will help suit your unique riding style and type of bike. Boots for adventurers have anti-slip and overall super-tough feel to match your off-road lifestyle.
Pros:
Cons:
Motorcycle Shoes
Motorcycle shoes aren't limited in what they can do when it comes to letting you ride your bike in comfort. Remember that these bikes are made with your motorcycle riding environment in mind, assuring you of a comfortable and safe riding experience.
The best motorcycle shoes come optimized for protection and ergonomics in relation to your motorcycle riding needs. They feature shift pads that help protect them from wear. Like the motorcycle boots, they feature the hardiness you need to painfully and comfortable shift your bike gear regularly.
Motorcycle shoes are also designed with quality materials for maximum longevity. For instance, you'll notice that these shoes have a tougher sole that regular streetwear to enable them to withstand the tough riding environment. Their toe box area features reinforcement, which further places their quality above that of an ordinary street shoe. The soles have steel rank reinforcements too, which help with durability.
The shoes protect your heel to prevent it from being crushed if you get involved in a crash. They also keep your malleolus or ankle bone from abrasions and impacts. Some shoes even come with added comfort-oriented features such as waterproofing.
Also, these types of riding come with an extra benefit of style. If you like all good when riding your motorcycle, you can't resist how stylish the shoes look!
You'll also be pleased to note that motorcycle shoes come in varying capabilities and functions, enabling you to easily find a pair that suits your unique riding preferences.
Pros:
Cons:
Conclusion
From our discussion above, it's clear that choosing the right motorcycle shoes boils down to safety and comfort.
Good quality pairs of motorcycle boots or shoes ticks both boxes for safety and comfort. Motorcycle shoes, however, don't offer as high level of protection as the boots. If you're looking for the perfect shoe for hitting the tracks, you'd want to go for boots and not shoes.
Since both the boots and shoes are designed for use with a motorcycle, they come with construction and features that enable them to hold up to the biking lifestyle and serve you for many riders.
With this information, we hope that deciding between motorcycle boots and shoes should be easier for you.