Scooter vs Motorcycle – Which is Safer?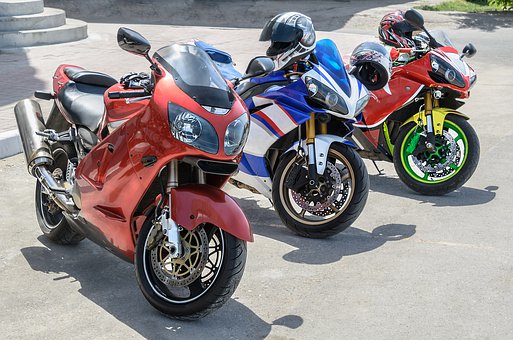 It's the warmer weather and some of you are trying to figure out which type of vehicle is going to be best suited for you. Should you buy a motorcycle? Should you buy a scooter? The answers to these questions are going to be determined by demographics, where you live, what your basic needs are, the longest distance you usually travel, and of course your available budget.
Once you figure out which vehicle is best for you, you have to choose the best model that meets your requirements and budget. 
Main Differences Between a Scooter vs a Motorcycle
The main differences between a scooter and a motorcycle are:
Scooter vs Motorcycle: The Top 3 Products of Each Type
Top 3 Scooters
With its attractive design and exceptional performance, the Beverly 300 Euro 4 from Piaggio is the perfect scooter for adventures and getting around town.
Key Features
Beverly 300 Euro 4 comes in outstanding color schemes with innovative finishing details.
You've got a well-designed instrument cluster with ABS & ASR lights and an integrated LCD. There is a handy glove box tucked into the shield of the rear leg.
The 278cc, four-stroke, single-cylinder engine provides superior efficiency and sheer riding pleasure. With this scooter, you are guaranteed excellent response and performance. The liquid cooling system prevents overheating to improve thermal efficiency.
The downside about this model is the slower changes in engine speed.
Verdict
If you are looking for a stylish scooter that is designed to deliver the best performance in its class, look no further than Beverly 300 Euro 4.
Overall Rating: 4.8
2. Suzuki Address 110
Address 110 from Suzuki sports an accommodating luggage compartment, optimized fuel economy, and responsive acceleration.
Key Features
This innovatively made scooter is keenly priced. But the value proposition goes well beyond the point of initial purchase. It delivers a healthy average fuel economy while filling the tiny 5.2-liter fuel tank is quick and inexpensive. Its four-stroke 113cc single-cylinder engine provides adequate power to mix it with traffic on roads with a limit of up to about eighty kilometers an hour.
Its trim weight and continuously variable transmission make it a great ride. The single-disc front brake and the rear drum pull it up well enough from city speeds.
But here is the thing folks, the suspension is built to a price and not particularly well-damped.
Verdict
Suzuki Address 110 was never intended as a high-performance machine, but it is all about cutting through the urban jungle efficiently and affordably.
Overall Rating: 4.8
3. Vespa GTS 300
Whether in town or country, Vespa GTS 300 is designed to provide more and style. It is a highly stylish and easy-to-ride scooter.
Key Features
Boasting what the Vespa describes as one of its most powerful engines, the GTS 300 also features ABS brakes, traction control, and LED lighting.
It is powered by a liquid-cooled 278cc four-stroke single-cylinder engine that is capable of generating twenty-four horsepower as well as twenty-two Newton meters of torque. It has one of the largest tank capacities of eight and a half liters that will allow you to ride in town longer. I also appreciate the switchable anti-slip regulation.
What I don't like about this model is the price tag, which can be expensive for people with tight budgets.
Verdict
This stylish scooter offers superior performance whether you are riding around town or within the neighborhood.
Overall Rating: 4.8
Top 3 Motorcycles
When it comes to super top performance, S 1000 RR from BMW is the real deal. It is a reliable model on the track and the road.
Key Features
The chassis is equipped with a 999cc inline 4 motor, which produces 207 horsepower and 113 Newton meters of torque. We all know that inline 4 motors are peaky with most of their power kept right on top. But BMW has fitted this machine with its shift cam technology, which is a two-stage variable valve timing. It allows this motorcycle to offer lots of torque at low and mid revs.
This heavy-duty machine comes equipped with state-of-the-art brakes for superior handling. The fully adjustable suspension gives you the best performance on any road condition.
But here is the thing, this beast is incredibly costly.
Verdict
With S 1000 RR, you get maximum performance, more stability, superior force application, and amazing damping on all routes.
Overall Rating: 4.8
2. Ducati Panigale V4
If you want to race on the track or ride into the city highways, Ducati Panigale V4 is engineered to meet your expectations.
Key Features
The first thing that I like about this motorcycle is the wider front bearing. It makes the bike a lot easier to tuck in behind them when you are going down the straightaways and speed. In wet conditions, it blasts the water over you to give you a more comfortable covering when you are busy on the track.
The electronic settings feature the most advanced software in the industry, which makes the calibration of the track control incredible. The Panigale V4 is uniquely designed to allow you to fit comfortably even if you are six feet tall thanks to the ergonomic package. The footpegs are sharp and provide the traction your feet need.
My issue with this bike is that it's heavy compared to the competition.
Verdict
Ducati Panigale V4 has it all in terms of performance (dry and wet roads and tracks), handling, control, and ergonomics.
Overall Rating: 4.8
3. Honda Fireblade SP
This outstanding motorcycle from Honda sports a powerful engine, a fancy new TFT dash, and state-of-the-art electronic suspension.
Key Features
One of the most important features of this machine is the front and rear electronic suspension. The unique suspension system makes riding on rough or bad roads a breeze because it adjusts to every road condition. The Brembo brakes make this motorcycle feel amazing.
You've got a titanium tank shell, which is great because it cuts down the weight by about four kilos. The exhaust is also made of titanium. You will love the LED lights, which are not only super bright but also extremely long-lasting. The seat is ergonomically made for superior comfort during long rides.
But the thing is, the Fireblade SP has a higher price tag and the display isn't big enough.
Verdict
If a feature-rich motorcycle that is designed to excel on the track and road is what you have been looking for, then Fireblade SP is the real deal.
Overall Rating: 4.8
Want more motorcycle reviews? Check out our commuter motorcycle roundup here.
How Do You Know Which One to Get?
Here are the most important things you need to consider:
Budget
There was a time when a motorcycle was the next best thing for people who could not have enough money to buy a car. Nowadays, a scooter is the next best thing for those who want to ride a two-wheeled vehicle but can't afford the elevated prices of motorcycles. An average scooter costs around $3,000, while the most expensive scooter may cost up to $10,000. An average motorcycle costs around $8,000, while the most expensive motorcycle may cost up to $50,000.
Performance
When it comes to performance, a modern motorcycle has the full package compared to a scooter. You get a state-of-the-art suspension, aerodynamic efficiency, and performance tires. You can hit the highest speeds possible on the track as well as on the road. But a scooter has limited speed and limited performance features.
Final Thoughts
After this scooter vs motorcycle showdown, you should have a good idea of what vehicle works best for you. These two-wheeled vehicles complement each other. Not to mention that if you had a bigger budget you would prefer to buy them both. A scooter is the cheaper option and the most ideal choice for those who want to own a two-wheel vehicle but have a limited budget. For high-performance fanatics, a motorcycle is the better option.
Piaggio Beverly 300 Euro 4 is the best-performing scooter in terms of speed and handling. However, the optimized fuel economy and responsive acceleration of Suzuki Address 110 make it a smoother ride. BMW S 1000 RR leads in performance superbike because the company is always pushing to the limit. However, Ducati Panigale V4 is designed to be faster and more exciting.