Scorpion EXO-700 Fiore Pink Helmet Review – BikersRights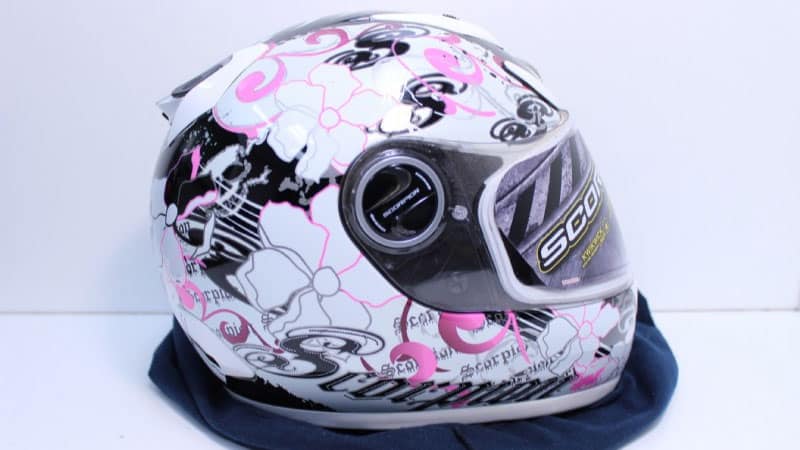 The Scorpion EXO-700 Fiore Pink Helmet is an attractive helmet if you're looking for something that leaves no doubt that there's a woman under it.  It has just enough pink to say "female" without being over the top girly.  The mix of black, white, grey, shiny silver and a touch of pink blends well with most ladies riding gear.  The outside graphics extend to the inside liner in a black, white and grey pattern of flowers and swirls. This helmet is also available in gold.
If you have ever tried to replace a typical helmet shield, you'll appreciate this feature; the shield comes off and goes back on with a simple twist of a dial.  The shield is also virtually unbreakable and truly fog free under normal riding conditions.  The included breath deflector assists with preventing the shield from fogging up under more extreme conditions.
The KwikWick liner keeps sweat and moisture away from the skin and also snaps out easily for washing.  The liner's thick padding and neck rolls makes this a very comfortable helmet to wear and its light weight is easy on the neck during long rides.
Wind noise is minimal even at higher speeds.  This helmet is also equipped with plenty of vents creating lots of air flow for warmer days but can be closed for cooler riding conditions.
The Scorpion EXO-700 seems true to size and fits snugly all around - the way a helmet is supposed to fit.  This is the first 'feminine' helmet I have owned and I enjoy having that small touch of pink among my mostly black and dark riding gear that let's people know there's a woman riding the bike that just passed them.
You can find this helmet online for around $229 at almost any online motorcycle accessory shop.