Sena Universal Microphone Kit SMH10 Review: Worth It? – BikersRights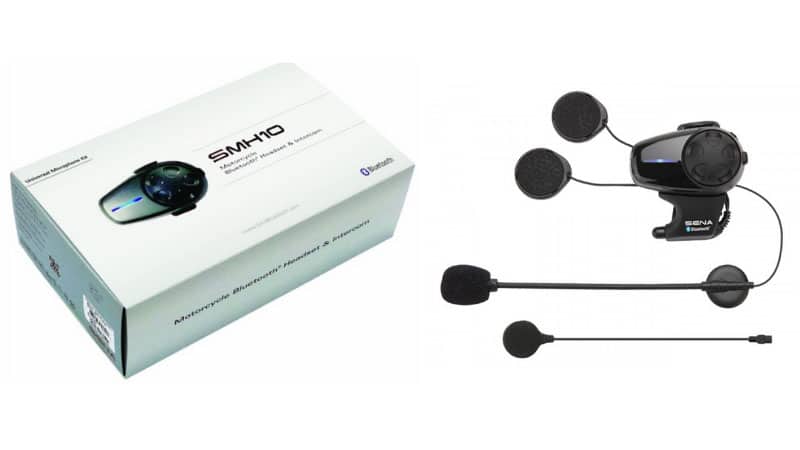 BASIC PRODUCT INFO
---
Motorcycle Accessories
Sena Universal Microphone Kit SMH10
I have to say for years I have held off fitting a Microphone kit to my helmet to be able to either communicate with a passenger, communicate with other riders in a group, or even just listen to music or answer the phone while riding. There is something to be said for peace-and-quiet while riding through the rolling countryside. But am I being a little narrow minded I thought?
So after giving it some consideration I decided to use one on a cross country ride from Boston MA to Pittsburgh PA. The plan was to stop in Lake Placid in upstate New York then onto Niagara falls. Riding two up with my seventeen year old daughter on the back was going to be the perfect opportunity to test one. We were riding a BMW K1600GTL so linking the Sena Universal Microphone Kit SMH10 to the BMW entertainment and Navigation system was going to be useful. I could also link the SMH10 to my phone and be able to communicate with my passenger. With all of the products I wanted to link to the system five in all I thought it was going to be tough to set up but I was pleasantly surprised to find it wasn't.
The first thing that surprised me was how easy to fit the Sena Universal Microphone Kit system to the helmets was. I was riding with a Bell Helmets Revolver EVO (a modular flip face helmet) and my daughter was wearing her black porn usual Arai RX-Q full face. Both helmets came with indentations within their linings to allow for the speakers to be imbedded behind the lining so you really didn't feel them against your ears. The wires fit neatly underneath the seam of the helmet and the cheekbones. I had to remove all of the lining within the Arai but the Bell just pulled aside to hide the wires. The Bell has a darkened flip-down shield with a button to control it on the left hand side of the helmet. Both receivers can only be mounted on the left of the helmet which I thought would be an issue, however it wasn't. I was able to flip the visor up and down with the unit mounted no problem.
The microphone's on the Sena Universal SMH10 kit came in two different forms. One stick on microphone on the inside front of the helmet for the Arai full face and the other an attachable boom microphone for the Bell Modular helmet. The boom works and is very maneuverable but I did find at speed wind did whip around the microphone and created a kind of static noise at above 60 miles an hour, only when both units were linked together and you could communicate, it was a bit of an annoyance. To stop it in the end we switched to our individual music with our iPhone's linked via the Bluetooth and only had it turned on when we were coming to somewhere that we might want to communicate.
We also had a Bluetooth stereo transmitter that we attached to the handlebars and linked to the units. This allowed me to plug in my older none Bluetooth embedded iPod with a single cable between the unit and my iPod. The phone was also paired with the Sena as was the BMW Navigation and Stereo. Setting it up took a bit of time but wasn't too difficult there was a lot of pairing and button pressing to get everything to communicate, but once it was linked that was it, every time we turned it on they were linked.
You press the wheel and the on/off button and it finds each unit individually and then you can move the wheel and toggle in between the devices. Only on one occasion did my phone ring and because we were linked and conversing at that exact time my daughter could hear the conversation, normally she couldn't hear my phone.
The clarity of the connection between the units was excellent. I would have liked it a little louder at high speed, my volume was at maximum. I checked the positioning of the speakers in my helmet as the left speaker always seemed to be louder than the right but they were both in the same place, maybe it was my ears. The unit is very easy to use with your gloves on and on our second day we were faced with quite a rain storm and everything kept operating nicely and it got soaked.
The battery life was good we charged them over night rode all day and it wasn't until the end of the day that mine started to cut in and out as the battery was dying. Charging them is a little confusing though. They only come with either a computer USB charger or a plug in lighter charger. So if you don't have a car with you or access to one while traveling you need to have a computer to plug them in. They really do need to supply wall plug socket chargers. Taking a cigaret lighter adapter is recommended unless you have a computer with you. Which as a contributor to AllAboutBikes I have to carry one with me but maybe the average rider wouldn't.
Overall the experience with the Sena Universal Microphone Kit the SMH10 and the Dual Stream Bluetooth Stereo Transmitter SM10 was excellent. You can get the Microphone Kit on Amazon for around $260.00 and the Transmitter is $110.00. So overall it is a $350.00 investment for the technology we were using.
So has my view now changed about using this type of technology while riding. I have to say it really has. It was an absolute pleasure being able to talk to my daughter while riding as was listening to my music and answering my phone. But on the other hand she is not my wife and doesn't tell me off. I think things would have been a little different when the police pulled us for speeding if my wife had been on the back.
Our next review of this type of Technology is on the Cardo Systems Q3 Bike-to-Bike communication system keep an eye out for the article.
Sena Bluetooth System-Reviewed by Vertical
I to ride with one of these. I love it, the freedom is great and I don't miss any phone calls. I do agree with the reviewers statement about the wind noise the feedback can be a little annoying but the latest software upgrade did reduce it a little.