Skyrich Powersport Lithium Ion: Your Last Battery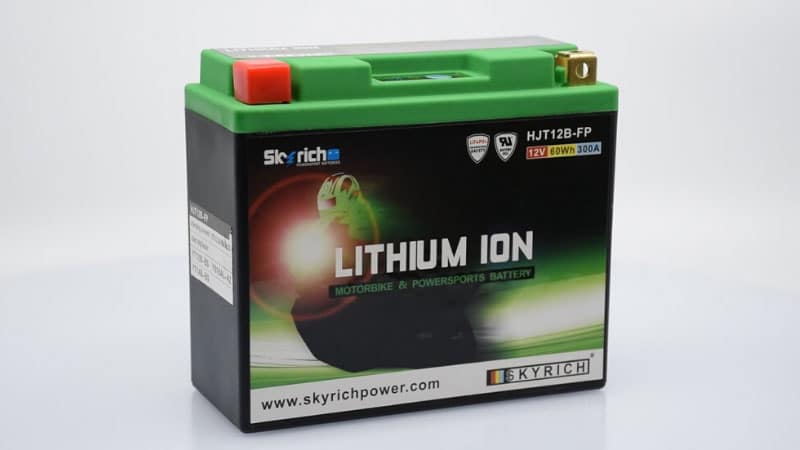 The motorcycle battery seems innocuous to many; to others it can be the most important problem of the moment. For those in the latter category, a long-term solution is at hand. It is called the Skyrich Powersport Lithium Ion battery and it may well be the only battery you ever buy for your bike.
Skyrich Lithium Ion Battery
Here is the bad news first – the Skyrich Lithium Ion battery will cost you around three times what the OEM lead-acid model will from your local dealer. However, it will be far easier to part with that money once you see the many advantages of making the jump to this updated technology. For one thing, a lithium ion battery will last five times as long as your stock motorcycle battery, on average, and longer if you take good care of it.
The feature we are all interested in as riders, though, would no doubt be the fact that the Skyrich Powersport Lithium Ion battery weighs between 66 and 75% lighter than any model of the lead-acid kind. It also beats the latter by having four times its cranking power and between seven and fourteen times the cycle life – read: it is stronger and more powerful. And, a great attribute for the owners of some high-performance motorcycle models made today - those with the battery on its side – is surely the dry nature of the Skyrich Lithium Ion battery; it holds no acid.
Skyrich Battery Green Cred
Skyrich even manages to address the environmental weaknesses of the lead-acid battery concept. Everyone is well aware of how toxic the chemical mixture is inside the power-cell which is most likely sitting in your bike right now; you wouldn't drink from it. The Powersport Lithium Ion is made with phosphate, iron and lithium, which are all non-toxic organic salts. When you are done with the battery, spread the contents on your garden as fertilizer and recycle the plastic case – simple and complete.
There are no other batteries for use in a motorcycle which can claim the "Green" label as Skyrich can. The lightweight nature saves fuel, the small size saves space, its long life saves in myriad ways – from energy for production to the water used to clean the equipment – and its composition doesn't poison you, your pets or the environment. Purchasing the Skyrich Powersport Lithium Ion actually gives you and your bike a positive checkmark in your own environmental scorecard.
Is the Powersport Lithium Ion for You?
There you have it, the Skyrich Powersport Lithium Ion battery is far better at the important duties a motorcycle requires than any standard lead-acid type battery could ever be or has been. Replacing your OEM battery (once it has passed on) with this innovative product is a practical and wise decision, provided you can afford the up-front cost.
The Skyrich Lithium Ion battery may one day become standard equipment on motorcycles, but today it stands as an incredible piece of smart technology with an impressive feature set. For more information, or to order your own: http://www.skyrichbattery.com/