Idaho Motorcycle Helmet Law

18 Years Old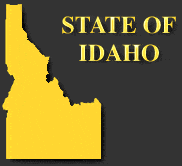 STATUTE:
Title 49. Motor Vehicles. Chapter 6. Rules of the Road. Section 49-666 : (666?)"No person under eighteen (18) years of age shall ride upon a motorcycle as operator or passenger, upon any highway, unless at all times when so operating or riding upon the vehicle he is wearing, as part of his motorcycle equipment, a protective safety helmet of a type and quality equal to or better than the standards established for helmets by the director."
FINE:
If you have information about the amount of the fine for violating Idaho's helmet law, please e-mail it to us. Thanks.
STANDARDS:
We are aware of what standard Idaho uses to define "protective safety helmet". Apparently the "director" approves Idaho's so-called safety equipment.
COURT DECISIONS:
"This section created no unconstitutional imbalance between the personal liberty of the individual and the interests of society in general and did not deny the defendant equal protection of law or due process, nor was it an infringement of fundamental liberty, of his privacy and right to be let alone." State v. Albertson, 93 Idaho 640, 470 P.2d 300 (1970).
NOTE: This decision has to do with the limited question of the State's right to impose safety regulation on individuals under the police powers, and not on the subject of unconstitutional vagueness. In other words, the definition of "protective safety helmet" is vague; which means the Idaho statute requiring motorcyclists to wear a "protective safety helmet" is vague; which means the Idaho helmet law is possibly unconstitutional . . . State v. Albertson notwithstanding.
CURRENT ACTIVITY:
September 16, 1996The Governor's Medicaid Reform Advisory Council put out a Proposed Principles for Reform Draft. Principle no. 2 Section 2.11 reads:

"Propose amendment to state legislation to expand the existing helmet law, including mandating helmet use for all persons on motorcycles, off-road vehicles, and snowmobiles, and for children on bicycles."

There were three Senators and three Representatives on this council, along with Claims Bureau Chief from the State Insurance Fund, a County Commissioner, a Mayor, a Professor of Business from Idaho State University and many others.

If you know of any current activity regarding efforts to remove or otherwise amend Idaho's helmet law, in the Legislature or the Courts, please e-mail that information to us so we can update this site. Thanks.
WEBSITES: