Indiana Motorcycle Helmet Law

18 Years Old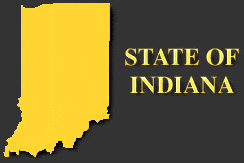 STATUTE:
Title 9. Motor Vehicles. Article 19. Motor Vehicle Equipment. Chapter 7. Motorcycle Equipment. 9-19-7-1 Minors; protective headgear and face shields. Section 1. :"An Individual less than eighteen (18) years of age who is operating or riding on a motorcycle shall do the following:"(1) Wear protective headgear meeting the minimum standards set by the bureau."(2) Wear protective glasses, goggles, or transparent face shields."
FINE:
If you have information about the amount of the fine for violating Indiana's helmet law, please e-mail it to us. Thanks.
STANDARDS:
The statute defines "protective headgear" as a helmet that meets the standards established by the United States Department of Transportation under 49 CFR 571.218 as in effect January 1, 1979. . . ."
COURT DECISIONS:
We have not found any published cases from any of the Indiana courts of record regarding challenges of the state's helmet law on constitutional grounds, or any other.
CURRENT ACTIVITY:
If you know of any current activity regarding efforts to remove or otherwise amend Indiana's helmet law, in the Legislature or the Courts, please e-mail that information to us so we can update this site. Thanks.
WEBSITES: