Supercross Vs Motocross – Know the Difference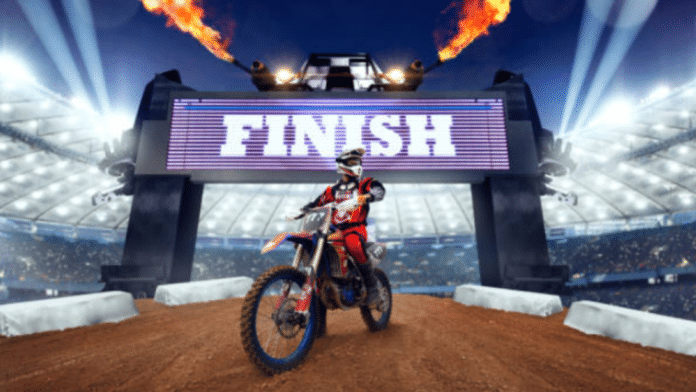 Ever wondered if supercross (SX) and motocross (MX) are the just same thing? Apparently, they're not. 
Supercross is more about rhythm and technique, which simply means you don't have to use that much energy. Motocross, on the other hand, is more about endurance and toughness. 
Motocross as a sport is more physical and more of an outdoor thing, while supercross is more of a compact track.
Still confusing?
Let's dig into the subtle differences between supercross vs motocross. Then, you decide which sport suits you better.
Keep on reading to find out the key differences between these two!
Supercross Vs Motocross 
The primary difference between supercross and motocross is where the race takes place. Supercross happens on indoor tracks inside the arena, whereas motocross on outdoor tracks. Supercross racing generally involves shorter racing tracks with 10 laps, while motocross involves longer racing tracks but consists of 2 laps.
Main Differences Between Supercross Vs Motocross
These are the key differences between supercross and motocross:
Supercross racing is done on indoor tracks inside an arena, whereas motocross racing takes place on outdoor tracks.
Supercross tracks are manmade and usually vary from one stadium to another, whereas motocross tracks are based on natural terrain.
Supercross contains shorter tracks with an average event having 10 laps, whereas motocross contains longer tracks with an average event having 2 laps.
Supercross has two division racing (250SX class and 450SX class), whereas motocross has three classes (250cc women's class, 251 to 450 cc four-stroke machine class, 150 to 250 cc four-stroke machines class).
A supercross race in the 250cc is 15 mins plus 1 lap and in the 450cc is 20 mins plus 1 lap, whereas two motos in motocross take 30 mins plus 2 laps each.
Supercross is all about technique and rhythm, whereas motocross is all about toughness and endurance. 
What Is Supercross?
Supercross as a sport is a type of motocross racing. The first dirt bike racing event that was held indoors took place in 1948 inside the Buffalo Stadium. 
The sport is held indoors inside sports stadiums on manmade tracks. Builders use bulldozers to create whoop-de-dos, jumps, and other track features. The tracks are usually shorter and compact. SX tracks feature all the obstacles found on MX tracks outdoors, including whoop-de-dos, bumps, turns, and jumps. 
These obstacles are not only amplified but also strategically positioned for easy viewing by spectators. 
Lastly, supercross dirt bikes are categorized into two main classes: 250cc and 450cc. 
What Is Motocross?
Motocross or MX is a form of motorcycle racing sport. The term motocross emerged around 1934, which is simply a combination of the words cross-country and motorcycle. 
The sport grew out of early dirt bikes races that were referred to as scrambles. The motorcycle racing sport, motocross, involves a group of up to 40 dirt bikes racing around an outdoor dirt track that has lots of jumps, hills, turns, twists, and whoop-de-dos. The jumps may send racers and their bikes up to 30 feet into the air at speed of up to 50 miles per hour. 
Motocross tracks are based on natural terrains and they are not the same from one event to another.
Feature Differences
These are the main differences between supercross vs motocross:
Tracks
Supercross Tracks
Supercross tracks are built inside stadiums or arenas. They are different from the outdoor motocross tracks.
The turns are tighter and they have more jumps, but they don't have natural obstacles like trees and steep hills. Racers or riders are challenged by the tighter turns and numerous jumps. SX tracks also have short straightaways.
Supercross tracks are short—the length depends mostly on the size of the stadium the race is held in—because they are built indoors as opposed to the long motocross tracks.
Among the various obstacles that racers or riders have to tackle are rhythm sections, whoop sections, and triple jumps.
Rhythm sections are made up of irregular jumps, whoop sections are composed of brutal washboards, and triple jumps are in a row that SX riders clear in one leap of about 70 plus feet. Most of the turns on the track have banked berms, while others are flat.
Motocross Tracks
Motocross tracks are designed on outdoor dirt tracks that are usually one to three miles long. These outdoor tracks feature extreme terrain changes and lots of track features.
Every MX track has a unique dirt type. It is the dirt type that affects a track's performance. But each motocross track has the following features. An MX track begins with the holeshot MX starting gate, which is a form of metallic gate that drops when the race starts. The rider goes over the gate as he or she is exiting.
Unlike supercross tracks that have limited features, motocross tracks are packed with lots of them. The features include a dragon's back, braking bumps, tabletop jumps, acceleration chop, ruts, triple jump, off-camber corner, whoops, single jump, double jump, step-down, over-under, rhythm section, and rollers among others.
Classes
Supercross Classes
There are two main supercross racing divisions, the 250SX class, and the 450SX class. The 250SX class is mainly popular among young racers on a 250cc 4-stroke dirt bike. In supercross, the 250 class is broken down into two divisions: the Western Region and Eastern Region. 
Each season, one champion is crowned from each region. The main dirt bike brands featured in these classes include Yamaha, Suzuki, Kawasaki, Honda, Husqvarna, and KTM. These dirt bikes are extremely modified.
Motocross Classes
Motocross has three main classes, which include the 250cc class for 150 to 250cc four-strokes, 450cc class for 251 to 450cc four-strokes, and the 250cc women's class. 
The men's motocross has only one 250 division. That division goes to every stop on the tour and it includes every 250 class racer. A 250 title in motocross is considered a major championship.
The most popular brands featured in the different classes of motocross include Suzuki, Honda, Yamaha, and Kawasaki.
Championships
The most popular championships are the AMA Supercross and AMA Motocross. These two championships are based in America. 
The AMA Motocross Championship races take place on natural terrain outdoor tracks that have manmade technical sections. The AMA Supercross Championship races are conducted on manmade tracks inside stadiums or baseball fields. 
Differences in Dirt Bikes
Those new to either motocross or supercross may assume that these two sports work with similar bikes. But that's not usually the case because there are some slight differences.
They both use 250cc and 450cc dirt bikes. Not to mention that the classes in each sport are named based on the engine displacement like the 250cc class and 450cc class. The 450cc class, however, is the highest-ranking one in both sports.
The dirt bikes used in these two sports, however, differ in suspension. The suspension of a dirt bike used in motocross has to be tuned for superior control and maneuverability in whoop sections and flawless ground contact. 
On the other hand, the suspension of a dirt bike used in supercross needs to be tight for tight cornering ability. There is usually a lot of pop in the bike's suspension and the setup equals responsiveness.
The Bottom Line
Motocross vs supercross, are they the same? In some ways they are. They both feature dirt bikes, held on dirt tracks, and feature whoops, turns, and jumps. But that's where the similarities end.
Although they both feature dirt bikes, motocross requires the suspension to be tuned for better control and ground contact, while supercross needs a tight suspension for tight cornering. Motocross is held on outdoor tracks, while supercross is held on indoor tracks.