Supermoto Vs Sportbike – Which One Should You Buy?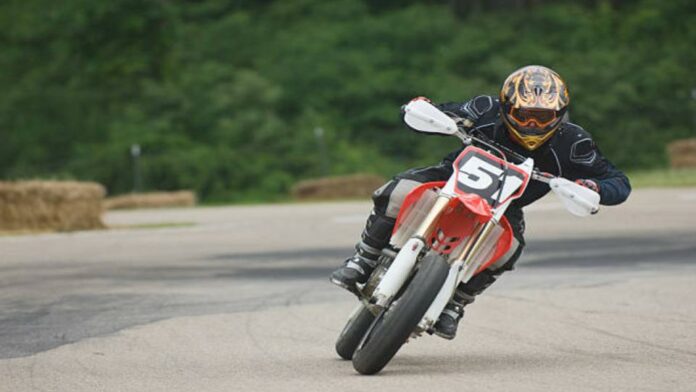 You're probably confused, so let's compare Supermoto vs Sportbike. A supermoto is a combination of asphalt and dirt bikes, giving you truly exciting high speeds just like in road racing. You get big triples and double jumps like in supercross or motocross. You can easily navigate the urban jungles, thanks to the maneuverability and suspension travel of the dirt bike platform.
Sportbike is designed directly from racing experience, which means it features a very sporty engine and handling. With a sportbike, you get a lot more bodywork, aerodynamic styling, high-speed acceleration, and an aggressive braking system. This bike will put you in a more aggressive forward position.
You may already know the quality and reputation of these two types of bikes.
What may not know is the key differences between a supermoto and a sportbike, and which type is best for your unique riding style.
So, let's dive in and take a look.
Main Differences Between Supermoto Vs Street Bike
The main differences between supermoto vs sportbike are: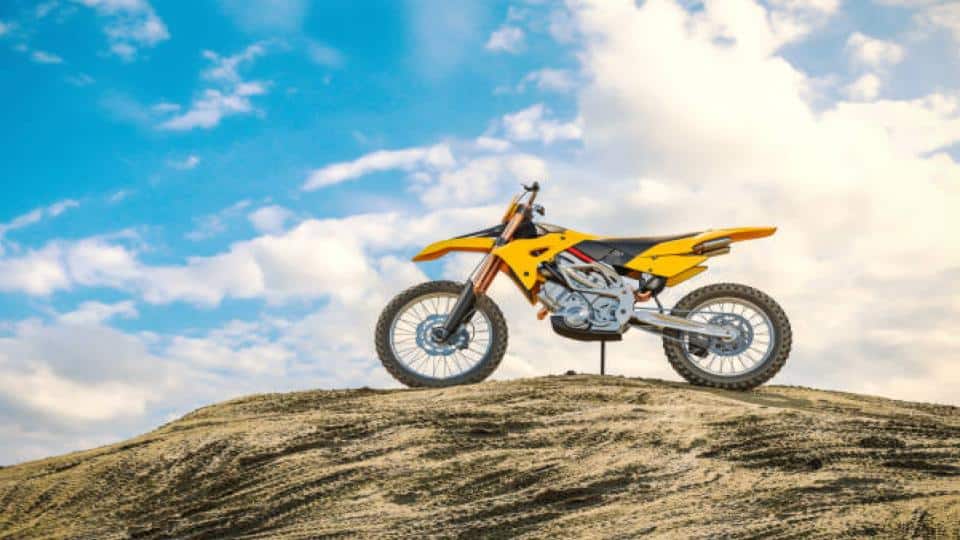 A supermoto offers versatility in diverse conditions, whereas a sportbike is ideal for street conditions.
A supermotard rider sticks his or her leg out when cornering, whereas a sportbike rider drops his or her knee when cornering.
A supermoto has very long travel suspensions for off-road, whereas a street bike has moderate suspension for the street.
A supermotard has an upright riding position for suspension loading and tire-gripping, whereas a sportbike has an aerodynamic position for faster riding.
A supermotard has wider bars for flicking the bike, whereas a sportbike has clip-on handlebars for leaning forward.
A supermoto is a better choice for endurance riding since the bike is lighter, smaller, and gives you the freedom to ride on diverse terrain. A sportbike, on the other hand, is built for speed on the tarmac, thanks to its massive horsepower.
These are just the highlights, continue reading to learn more about these two-wheel machines…
Supermoto Vs Sportbike: Introduction
What Is a Supermoto?
A supermoto is a street-legal bike that can go offroad. The suspension is set up to handle jumps and the tires are designed to go offroad and on trails while still being able to maintain high speeds on the track. The idea of a supermoto was conceived and developed by Gavin Trippe in 1979. A supermotard was born on a course made of flat track motocross and paved road.
What Is a Sportbike?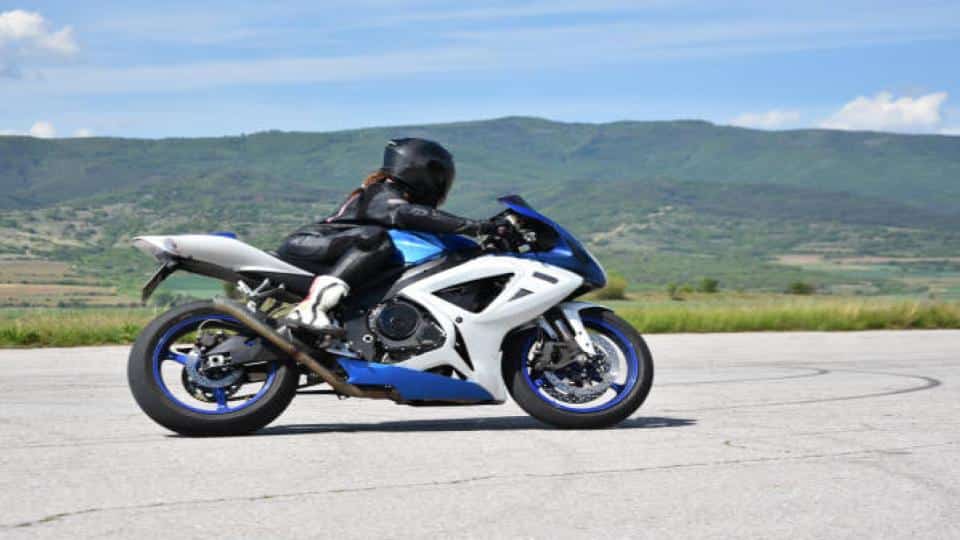 A sportbike or a street bike is a motorcycle that is uniquely engineered for cornering, braking, acceleration, and speed on paved roads. The rise of street bikes started with the introduction of the 1969 Honda CB750 that led to a remarkable increase in the power of mass-produced motorcycles at budget-conscious prices. In 1983, Honda introduced the VF750F Interceptor. The initial sportbikes were based on competition bikes.
Feature Comparisons
Versatility
A supermoto bike combines road racing and dirt riding into one design. This unique combination makes a supermotard a suitable choice for racing on a hard-packed dirt track, obstacles of motocross, irregular jumps, as well as paved tarmac road. Commonly, supermotard races are held on medium-sized go-kart tracks or road racing tracks fitted with an off-road section. Not to mention that you can ride up the staircases with a supermotard, which is something you cannot practically do with a fancy street bike.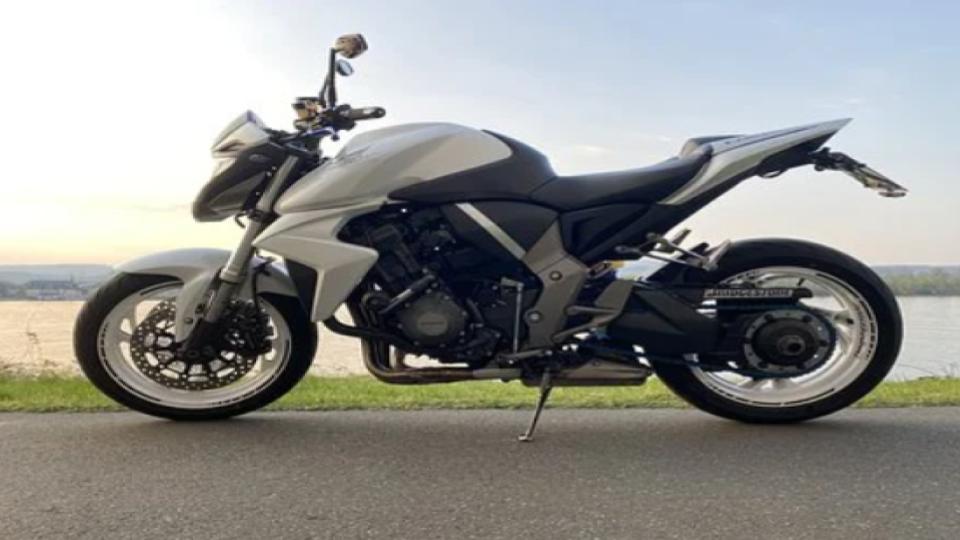 A sportbike has a unique design that is optimized for speed. Its high-performance design features make it a good bike for racing on roads, tarmac, paved roads, and race tracks.
Verdict: When you look at versatility, a supermoto is the better option.
Leaning and Cornering
When riding a supermotard, you usually push the bike down while crossed up and sitting upright. So, when the track is closer to the footpeg you will have to stick out your leg to stay firmly planted when going around a corner. This riding position helps with balance as you lean the bike over. Another amazing trick is to press down on the outside footpeg to get superior traction.
Sportbike riding is all about high speed. So, going through corners needs your body position to be as low as possible (low center of gravity). This is where knee sliding comes in because it offers a rider a better contact patch and faster cornering speeds. With a street bike, you can precisely scale your lean angle during cornering. This is extremely important when you want to maintain high corner speed. Knee down ensures you don't exceed the maximum lean angle of your motorcycle.
Verdict: When it comes to superior cornering performance, a sportbike is the better option.
Riding Style
The upright riding of a supermoto may not be the most comfortable position for some riders. This is so because you are pulling on the handlebars and at the same time putting pressure on your lower back. This will end up causing discomfort over time.
The aerodynamic riding of a street bike reduces the pull on the handlebars. You achieve this by tucking in your body to reduce your frontal area. The uniquely designed fly screen of a street bike improves aerodynamics to reduce drag during high-speed racing.
Verdict: When riding at high speeds against the wind, a sportbike is the better option because it reduces drag.
Size Difference
When comparing the size between a supermoto and a street bike, there are some unique differences.
The design of a supermotard requires a higher ground clearance for it to be more versatile on different terrains without damaging the underparts or sump of the chassis and motor. The extra height requirement directly affects the height of the seat. You will notice that most supermotos are tall, which means you have to take into account the seat height when buying a supermotard.
Street bikes, on the other hand, are specifically designed to be ridden on obstacle-free surfaces. For this reason, street bikes are not only low-slung but also have considerably less ground clearance. The seat height on a street motorcycle is usually low, which makes it easy to get on and off the bike.
Supermotos are generally shorter in length when you compare them to street bikes. The shorter chassis ensures that this type of motorcycle is more nimble around tight corners or obstacles. Sportbikes are longer by design to allow you to sweep corners easily at speed.
Verdict: A supermoto wins in this category, thanks to its superior ground clearance for added versatility.
Suspension Travel
Suspension is a key factor in a motorcycle as it is crucial for shock absorption. The looser the suspension, the more shock the motorcycle can absorb.
Supermotos are also engineered to be ridden over obstacles. So, they feature a longer suspension travel. The suspension travel in supermotards is usually 12-plus inches. Too much of it can lead to uncomfortable rides on the streets where there are no obstacles or jumps. Some riders can easily bottom out when racing on the streets.
Sportbikes have less suspension, approximately three inches for riding through less problematic obstacles like road bumps and potholes.
Verdict: As far as versatility is concerned, a supermoto is the better option when you consider suspension travel.
Steering
You need superior handling as well as balancing to maneuver off-road and over obstacles. That is why you've got wider handlebars on a supermoto. Street bikes are equipped with a variety of clip-on handlebars that are positioned low for leaning forward.
When riding a supermotard, there is no need to apply a lot of force when steering. With sportbikes, however, you have to be on point with steering.
Verdict: A supermoto is much easier to steer and control.
Price Breakdown
What's the price breakdown between these two types of motorcycles? In the end, what truly matters is which one you can buy. Typically, a true supermotard that has a lot of potent power, like the Yamaha WR250F, can cost you around $8,000 – $9,000. This is quite manageable for people working with a tight budget.
Street bikes, on the other hand, are performance-oriented machines, and there is a wide variation as far as pricing is concerned. Many street bike brands have a good range of prices, depending on the design of the bike.
On average, the price can range from approximately $5,000 to $60,000. We've got street bikes that are priced at $20,000+ but are intended for competition or track riding.
Some of the most expensive models you will find on the market may not be street legal like the Kawasaki Ninja H2 R (which has a price tag of approximately $55,000). Most beginner riders would appreciate less expensive brands like Honda. Some good examples are CBR300R (approximately $5,000) and CBR1000RR (approximately $17,000).
Verdict: A supermoto is the better option as far as budget is concerned.
Supermoto Vs Sportbike: The Winner
A supermoto is better for taking on ride trails, jumps, as well as corners at exceptional lean angles, thanks to its street and dirt bike combination. A sportbike is better for tarmac riding and competitive racing, thanks to its aggressive or aerodynamic design, low handlebars, and high footpegs that put you in a tucked position.