Teknic Xcelerator Leather Race Suit 2011 Model Review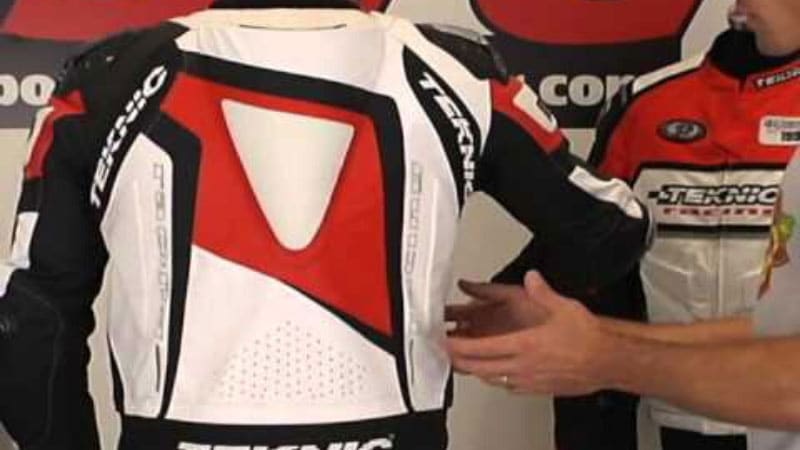 Teknic has been producing high-quality motorcycle protective gear for some time, and they have a reputation among riders for selling their wares for a fair price. However, they don't skimp on style in order to achieve this. The Xcelerator (cheesy spelling, yes) is a one-piece riding leather suit which exemplifies the highly capable gear Teknic can offer to a motorcycle rider.
Truth be told, it's a phenomenally feature–rich suit for an almost hard to believe low price – the Teknic Xcelerator is no less than impressive in this price range, or that of even pricier leathers. From the first reading of the specification sheet, in fact, you will know this is no ordinary bit of gear.
Teknic Xcelerator Specs
The kangaroo hide construction should alert you right away of the fact that Teknic has put some effort into creating this suit. Kangaroo leather is 30% lighter than cowhide while being stronger and more abrasion and tear-resistant; the Xcelerator is made of a 1.0mm thick layer of this superior hide. Teknic Advanced Seam Construction (TASC) holds this skin together making extensive use of multiple rows of hidden stitching throughout, and keeps the joined areas far away from potential impact areas.
The shoulder of the Xcelerator uses Teknic's patented Airblade replaceable CE-approved armor system; a true structure which simultaneously provides dual-density impact protection and a cooling flow of air into the interior. Knox supplies their own patented CE-approved Flexiform armor which is employed at the elbows, forearms, knees and shins. This armor has a range of adjustment at the knee and elbow areas for that perfect fit. External aluminum sliders are installed at the elbows to keep you from rolling should you hit the road while moving quickly.
Inside the Xcelerator is a 3M Scotchguard treated mesh liner which is antibacterial, removable and washable to keep the interior fresh. Teknic's Safety Wrap System is utilized in the stretch areas of the shoulders, elbows, small of the back, seat and knees; this design integrates extra hide into these areas to provide upgraded strength and safety. Stretch panels are constructed of Kevlar and Cordura which also supply ventilation, and accordion leather stretch sections add even more flexibility. For more protection, CE-approved armor may be added to the chest, back and hips.
Teknic Xcelerator Design
Teknic has done some serious design work with the Xcelerator – it is incredibly flexible, comfortable and you feel wellprotected when it is on. The standard pre-curved shape holds you in a perfect posture for riding at speed, but it is flexible enough to let you stand almost straight up when off the bike.
The kangaroo hide is immediately noticeable as the weight of the suit is much less than what you may be used to. Once on the road or track, the airflow is also immediately apparent; the Xcelerator is a three-season suit, depending on your seasons, and is incredibly flexible in this area. The speed hump does its job quite admirably, slicing through the wind as you ride into it. Moving on the bike is effortless and the lightness of the suit really shows after you you have spent some time inside this Teknic masterpiece.
Teknic is very proud of the Xcelerator and they have right to be; finding a kangaroo hide suit with this feature set, which is this comfortable, and for less than $1000 is something to write to everyone about.
Teknic Xcelerator Leather Race Suit 2011 Model Review