Timeline Of The History Of Indian Motorcycles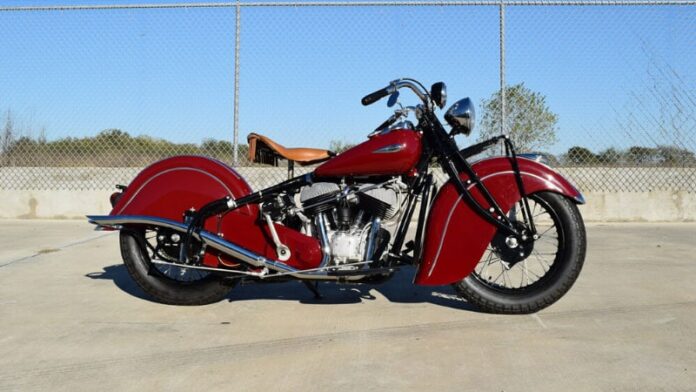 After Harley-Davidson, no other manufacturer of American motorcycles has had as great of an impact on the industry as Indian. Below is a timeline that chronicles Indian's rise to prominence, mid-century bankruptcy, and many attempts at revival.
Timeline Of the History of Indian Motorcycles:
When discussing the timeline of the History of Indian motorcycles, it was in 1902 that the first Indian motorcycle was sold to the public. The motorcycle was integrated with a single-cylinder engine and was designed and built by the Aurora Firm and chain drive. Later in 1907, the first street version of the V-twin factory racer, alongside their Roadster model, was released.
1890s
1897 – "Indian Motorcycle Co." originally founded as the Hendee Manufacturing Company by George M. Hendee. First produces bicycles under the names "Silver King" and "Silver Queen," but soon switches to "Indian" for better brand recognition.
1900s
1902 – First Indian motorcycle sold to the public. Features a single-cylinder engine built by the Aurora Firm and chain drive.
1904 – Indian introduces trademark deep red color on motorcycles.
1905 – First V-twin factory racer built.
1907 – Indian releases street version of the V-twin factory racer, as well as a Roadster model featuring a twist grip throttle.
1910s
1911 – The V-Twin factory racer is updated with overhead valves and four valves per cylinder. Indian riders Godfrey, Franklin, and Moorehouse finish first, second, and third at the Isle of Man TT.
1916- One of Indian's most legendary engines, the Powerplus, is introduced. The 1000 cc engine is a 42-degree V-twin flathead with side-valves. The powerful engine (top speed 60 mph) was attached to three-speed hand-operated gearbox and foot operated clutch.
1919 – The first Scout, with a 606 cc engine, is introduced as a 1920 model in October.
1920s
1922 – Indian Chief hits the market with a 1000 cc engine based on the Powerplus.
1923 – Chief engine enlarged to 1,200 cc.
1927 – Indian purchases Ace Motor Corporation and releases the Indian Ace based on the Ace inline four-cylinder engine.
1928 – Indian Ace replaced by the Indian 401.
1928 – Original Scout replaced by the Scout 101 featuring a new frame with more fork rake, longer wheelbase, and lower seat.
1929 – Indian 402 improves on the 401 with stronger twin-downtube frame and five-bearing crankshaft.
1930s
1932 – Standard Scout is released with a new bulkier and heavier frame which was poorly received.
1934 – Models of this year featured the famous head-dress logo on the gas tank. 1934 – The Sport Scout is Indian's response to the poor reception of the Standard Scout. It came with a lighter frame, improved carburetion, alloy heads, and Girder forks.
1936 – Indian changes the four-cylinder engine configuration to EOI (exhaust over intake). While more powerful, it made the cylinder heads, and thus the rider's seat, very hot. This and valve train issues caused sales to drop.
1937 – Sport Scout wins the first Daytona 200
1940s
1940 – Indian Chief and Four receive trademark large skirted fenders, as well as new sprung frame to compete with Harley's unsprung rear end.
1941 – Indian develops the Indian 841 for the US Army. The 841 was powered by a longitudinally mounted air-cooled 90-degree V-twin with shaft drive, which was later popularized by Moto Guzzi.
1942 – Indian Four is discontinued.
1949 – Under Ralph B. Rogers, the Scout is discontinued and lightweight motorcycles such as the 149 Arrow and the Super Scout 249 are manufactured.
1950s
1950 – Another lightweight bike, the 250 Warrior is released.
1950 – The Chief's V-twin is enlarged to 1300cc, but few bikes were built due to financial problems.
1953 – Indian Motorcycle Manufacturing Company declares bankruptcy and discontinues production of all models.
1955 – Brockhouse Engineering buys rights to the Indian name and sells imported Royal Enfields under the brand until 1960.
1960s
1963 – Entrepreneur Floyd Clymer manufactures a popular Minarelli-engined 50cc minibike under the Indian name.
1967- Burt Munro sets a land speed record of 183.586 mph on a modified 1920s Scout bored out to 950cc.
1970s
1970 – After Clymer's death, attorney Alan Newman buys the Indian trademark and continues to sell small bikes (between 50cc and 175cc) until going bankrupt in 1977.
1990s
1999 – The Indian Motorcycle Company of America is created by a merger of nine companies. Chief, Scout, and Sprint models are produced with S&S; Engines.
2000s
2002 – A 1600cc Powerplus engine is used in 2002 and 2003 models.
2003 – Indian Motorcycle Company of America goes into bankruptcy and ends production of all models.
2009 – The Indian Motorcycle company, formed in 2006, releases a limited number Indian Chiefs with 1720cc Powerplus V-Twin and electronic fuel injection.
2010s
2011 – Polaris Industries, parent company of Victory motorcycles, takes over production of Indian motorcycles.
You can also check out Biker Right's history of pagan's motorcycle club article.
Trailer for The World's Fastest Indian with Anthony Hopkins as Burt Munroe