Types of Motorcycle Helmets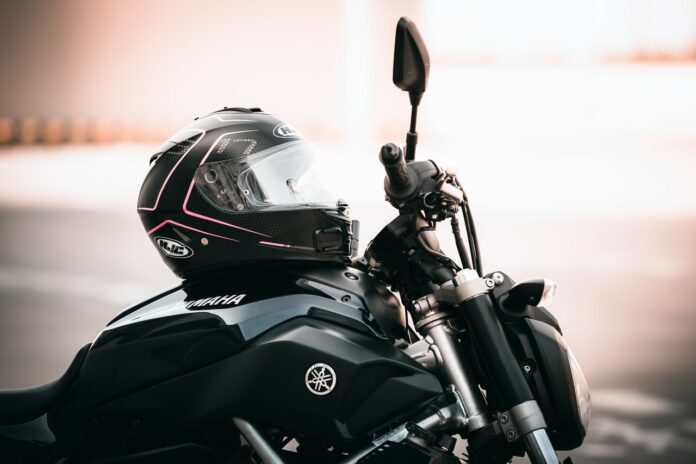 The most important safety gear for bikers is the motorcycle helmet. Nothing can protect your head better. In fact, wearing a helmet reduces the rider's risk of fatality or injury by 40 percent versus going without it.
There are so many kinds on the market for different types of bikes and activities. This article will highlight the different types of motorcycle helmets and the materials they are made from.
Motorcycle helmets protect the rider's skull and face. Some models even have features for communication. Even though helmets do not always prevent grave injuries during an accident, it reduces the chances of fatal injury. Modern helmets are reinforced with plastic and carbon fiber for extra toughness and foam interiors for comfort and added protection.
The helmet's primary role is to absorb the impact of a crash or any other mishaps in order to protect the rider's head.
Buying a motorcycle helmet is complicated because it comes in so many different sizes, shapes, and styles. Also, choosing a helmet depends on the type of motorcycle you'll be riding.
Top 6 Motorcycle Helmet Types
There are about six recognized types of motorcycle helmets. They include the modular, open face, off-road, half, and a dual-sport motorcycle helmet.
Modular (Flip-up) Helmet
Flip-up helmets or modular as they are known are a blend between a full-face helmet and the ¾ helmet. The visor and chin bar can flip up to make the front of the helmet visible. Also, the materials are a lot similar to the ones used in the full-face helmet.
Modular helmets weigh more than the traditional full-face helmet because it has more designs in the front due to the flip-up area. It also has a visor to protect the eyes and includes another internal visor to protect the eye from sunlight.
The hinge structure reduces rider safety because of its hinge structure. However, it offers more protection than some others on this list because of the chin guard. The helmet is used by cruisers, tourers, and adventure riders. This is why it is built with a vertical riding position. Also, the eye opening has a more straightforward design with a chin bar that sits lower on the rider's face. Some of these helmets have Bluetooth speakers, and others sport an anti-fogging coating as well as a dual visor system.
Full Face Helmet
This helmet covers more areas in the face. It covers the neck and the head. It is generally considered the safest to protect riders from impact. One distinguishing feature of this helmet is its chin bar. It is an important safety feature that a lot of other helmets lack.
One study found that fifty percent of impact during accidents is directed to the chin. A full-face helmet is the only type that offers this type of protection. This helmet is also a versatile choice because it can be used with different types of motorcycles.
The helmet varies depending on what the rider needs it for. Sports riders who stay in a crouched position need helmets that do not lift off when the speed increases. Therefore, a helmet with a visor opening and a higher chin bar is ideal. Cruisers, tourers, and adventure riders prefer an upright riding position. Whatever helmet they choose has to accommodate this position with a direct visor opening and a lower chin bar.
Lots of full-face helmets are designed with vents for ventilation. It is used to evaporate sweat and reduce visor fogging. It can also keep the rider cool on the road. When the weather is colder, riders can close the vents and reduce the airflow. In recent years, full-face helmets have received new features. Some prominent features include high-visibility color options, Bluetooth-capable speakers, and auto-tinted visors for sunlight.
Open Face (¾) Helmet
The open face helmet covers the sides and the top back of the head. The face is mainly exposed in this helmet. Open face helmets are common among café racers, scooters, cruisers, and tourers. This is because they keep the face area open for the rider to feel the wind brush against their skin.
This feature is the absence of a chin bar. It is stylish but leaves the face exposed and reduces the safety it provides. These helmets have the same structure as full-face helmets. However, since it does not cover the entire face, the open face helmet is lighter. Also, since the helmet is open, it doesn't protect the rider against road debris and weather conditions. Some come with full-face or partial visors to protect the face and eyes from sunlight. Others may not come with the helmet, so the rider would need to buy the part separately.
Off-Road (Dirt Bike, MX, or Motocross) Helmet
These helmets are designed for dirt road rides on dirt bikes. The off-road helmet is not ideal for highway and city use. The best place to use them is where knobby tires are required. The helmet has a different design from full-face helmets and open face helmets. It has an accentuated chin bar and a larger visor.
It offers more protection and weighs less than others. Also, the helmet has flowing ventilation for warmer months. However, it doesn't have luxurious features like Bluetooth speakers. It does not also offer eye protection, and the rider will need to use goggles and glasses.
While riding on dirt roads, goggles are preferable because they seal against the face of the rider. This prevents debris intrusion from the sides and bottom as the rider moves. The helmet is made from different materials such as Kevlar, fiberglass, and carbon fiber. They make it light and strong, so the rider will not be fatigued by carrying a heavy helmet all day.
Half Helmet
These helmets cover the upper part of the head, the forehead, and brows. Hence, it provides minimal protection. However, some have more coverage that extends to the back of the ears and neck. Still, it exposes the face.
Even though this helmet provides excellent airflow, it still does not offer enough protection. The ¾ and full-face helmet offer more protection. This is why many are not safety approved. Many half helmets don't come with a face shield or visor. Riders need to get eye protection like goggles or riding glasses.
When it comes to technological features like Bluetooth speakers, the half helmet falls short. This is because it lacks the space to place most of those features. There is very little to add in terms of an upgrade.
Dual-Sport (ADV, Crossover, Hybrid, or Enduro) Helmet
This helmet is a blend of a full-face and off-road helmet. The exterior styling is similar to the off-road helmet. However, it has a lower chin bar and a large visor. When it comes to comfort and interior padding, it has a similar build to the full-face helmet. The helmet offers both style and comfort because it is designed for both off-road and on-road racing.
The helmet has a larger visor for eye protection. It covers the face, but can also change into the open position so the rider can use goggles. Its visor is aerodynamic. This means that it does not move when the wind hits it. Also, it does not have a protrusive chin bar like the off-road helmet does. It offers better soundproofing and little airflow. This makes it a good helmet for different terrains in a single day. Riders can use the visor on the trail and the goggles for the road to get maximum airflow.
Components of a Motorcycle Helmet
There are so many types, styles, features, and materials used in making a helmet. However, all helmets are built with the same purpose; safety. It is designed to protect the rider's head, and a few key parts can do this. The first is the outer shell made with hard material, and the next is a crushable second section under. The comfortable part comes next with a chin strap as the last component.
There are four components of a motorcycle helmet, and they include:
Outer Shell
This is the outermost part of the helmet. It is rigid and colored. This is the part most people see when they look at a rider. Most times, the prominent materials used to make the outer shell includes carbon fiber, Kevlar, polycarbonate, or molded plastics. Sometimes, it is a combination of all the materials listed. The main function of this outer shell is to protect the head of the rider in case there is an accident. Also, it prevents penetration from objects like rocks and even insects.
Impact-Absorbing Liner
After the outer shell, the impact-absorbing liner is the next component. It is made from expanded polystyrene foam. Its function is to absorb the shock during impact and displace that energy. While the outer shell prevents foreign objects from entering the helmet, this part keeps the energy from transmitting to the rider's head during impact. Some layers are made from single-density foams, while others have dual-density foam. The latter will enhance energy displacement on impact.
Padded Comfort Layer
This comfort layer is the part that the head rests on while the rider has the helmet on. It consists of open-cell foams that are covered with another cloth material. It is built to wick away the sweat on a hot day. This feature also keeps the rider cool. It is removable so the rider can clean it. Also, it has an interchangeable design that accommodates different shapes of heads.
Chinstrap
This part is also called the helmet retention system. It is placed below the chin to ensure that the helmet stays on while you ride. It is made from woven materials and fastened with d-rings to secure it firmly. If it is properly secured, the chin strap does not have an allowance for more than two fingers between the chin and the strap. This strap is often partially covered with a cloth. It helps wick away sweat while making the helmet comfortable as it rests on your skin.
Other Parts of a Helmet
While a helmet has four main components, it also has other important parts. They include:
Vents
Helmets have a ventilation system that helps keep the head of the rider cool. It also removes sweat as much as possible to make the ride comfortable. Ventilation is a prominent feature on the ¾ and full-face helmet. However, it can vary depending on the design by the manufacturer.
Most vents feature a way to close and open the system for different weather conditions. During summer, they should be opened and closed during winter. In other seasons with more stable weather, the rider can choose to open and close it at will. It is adjustable, so this provides comfort for the rider.
Visor/Face Shield
This is a safety feature that is designed to keep debris, bugs, and other outside elements away from the helmet. It is built to be removable so the rider can clean it with ease. The rider can also choose to swap it with a newer shield or visor. It has so many color options as well as tints for various riding environments. When the light levels are low, it is ideal to ride with a transparent visor. A tinted visor can cause accidents during dull days.
Cheek Pads
Most ¾ and full-face helmets have cheek pads. They are designed to pad the cheek while riding. It is removable to enable riders to clean it thoroughly. Also, it is customizable to fit different head shapes. These pads may not be in every helmet since they are only customizable to add extra protection for the rider's face. It also helps keep the helmet on the head of the rider, no matter how bumpy the road is.
Materials Used to Build Motorcycle Helmets
As technology develops further, the helmet manufacturing industry is also seeing an impact. The manufacturers now add a new set of materials to beef up the protection levels of the helmets. Most helmets today are built differently from how they used to be. Helmets focus on comfort and are stylish as well. Most of them are lightweight and fulfill the needs of riders today. These helmets also offer protection to the rider's skull in case there is a collision.
The choice of materials makes this possible. There are four materials used in creating helmets. The quality, quantity, and positioning of the materials help save the rider in case there is an accident. The materials include carbon fiber, fiberglass, Kevlar, and mold-injected plastic.
However, plastic helmets are the most common ones. This does not mean that manufacturers use cheap plastic to build helmets. They do not use ordinary plastic. The material is engineered to meet the safety requirements of helmets. These helmets can remain intact during an accident or blunt force trauma. Also, plastic has a lightweight advantage over other materials.
Most riders do not like heavy helmets because of the discomfort they bring. Plastic helmets provide an excellent balance between weight and strength that most riders require.
Under the plastic shells of such helmets, there are thick foam paddings used in different applications. Some act as a crunching zone in cars today. Also, they increase the sturdiness of the helmet but the foam is not ideal. Foams crush during impact and they do not provide resistance to the force during impact.
What About A Fiberglass Helmet?
Fiberglass offers great flexibility. This material is often found on the outer shell. It is designed to absorb the impact of a crash as much as possible. They have a stronger base and can withstand higher impact. The helmets shatter on impact and this helps the rider during the accident.
Fiberglass stands out because it is lightweight. It is an excellent example of how flexibility and hardness can blend in a single material. If you're thinking of changing the style and color of your helmet, find out if you can paint a motorcycle helmet. 
What Helmets are Ideal for Racing?
Racing helmets are made with stronger materials since the rate of impact is higher. Therefore, materials like carbon fiber and Kevlar are used for this purpose. They can produce strong helmets. The materials can absorb greater impact that could break regular helmets into pieces. They are ideal for people who are particularly concerned about safety. 
Final Thoughts
There are six types of motorcycle helmets and each has an activity it is best suited for. If you want a fully protective helmet, the full-faced option is your best bet because it protects the rider's head as well as the face. The only drawback is that this type cannot be used with goggles.
The dual-sport helmet comes in handy if you want full-face protection and a stylish opening. It has the features of both the full face and off-road helmet. Also, the helmets are made from different materials such as plastic, fiberglass, and Kevlar.
If you want a safe helmet, Kevlar should be your first consideration. Fiberglass also has a good safety rating. Plastics, on the other hand, are largely unsafe because they do not always provide the protection needed to absorb the impact during an accident.
Ensure that you try a helmet on before buying it. This is because some helmets have regular head sizes. However, some can be modified to fit different head sizes. Also, find a helmet that has extra eye protection. Helmets are important safety gears that can save your life. Choose one that suits your safety needs and ride safe.