Velmia Motorcycle Cover: Really a Premium Brand?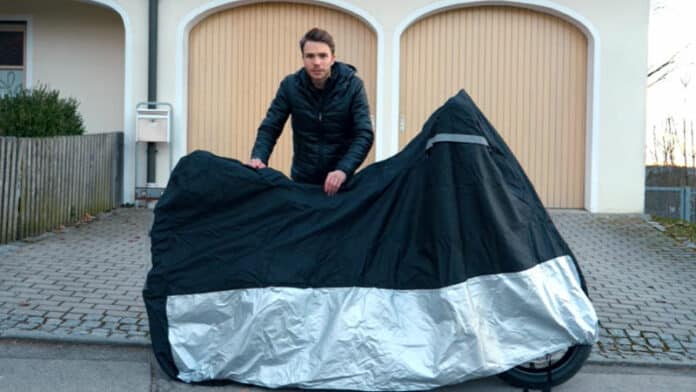 As you already know, motorcycle covers are designed for protecting your bike from rain, snow, dirt, debris, UV, and other harsh elements. They help preserve your bike so that it remains the way you left it and can take it for a ride as soon as you uncover it.
That said, Velmia is one of the major players in the production of top-notch many motorcycle covers. In this guide, we'll look at one of their top-rated covers—the Velmia indoor and outdoor waterproof cover—in an attempt to ascertain whether this brand delivers premium products.
Key features and Benefits:
We'll first outline the top features and benefits that make this motorcycle cover. This will help bring out a clear picture of whether the cover has what it takes to qualify for a premium model.
100% weatherproofing
One of the key benefits you'll enjoy from this motorcycle cover is that it comes with a 100% waterproof design. It keeps your motorcycle shielded from rain, hail, snow, wind, sun, dirt, dust, wet leaves/twigs, and more.
When you take off the cover after a heavy rain, you'll be surprised by the fact that your bike will be totally DRY. And unlike in the other covers out there, you'll find no water collecting at the bottom of this cover.
This makes it one of the most dependable waterproof motorcycle cover models that you can trust to keep your motorcycle from harm's way and find it in just the same condition you left it when storing it.
Tough, long-lasting construction
Another fantastic benefit you'll get from buying this cover is that it features heavy-duty construction. When looking for a motorcycle cover for outdoor use, you want to ensure that you get a sturdy model that withstand the harsh outdoor weather elements while protecting your bike from the same.
The premium material used in the construction of this cover feels pretty thick and durable and is highly resistant to tearing. It also boasts of excellent heat-resistant capabilities and can withstand exhaust pipes up to 575 degrees. Keep in mind that this material is also UV-stabilized and shows excellent resistance to the sun's UV rays.
Overall, the premium construction of this material means it will keep watch over your bike and protect for a more extended period of time.
Well ventilated cover
If you're a seasoned biker, then you understand that it's rare for motorcycle covers within the same price range as this Velmia to feature condensation vents.
Experts agree that you should get a bike cover with proper ventilation to prevent your bike from getting damaged by condensation effects. Humidity usually causes condensation if your bike feels cooler than the outside temperature. If your cover isn't breathable to allow for aeration, then it will create the ideal conditions for mold and mildew to buildup on your bike.
This Velmia outdoor cover is a different case. It comes armed with double ventilation openings that help keep out as much moisture from your bike as possible.
Super-smooth, scratch-free inner
You know what's the worst mistake you can make when buying a motorcycle cover? It's getting a model that has a rough inner surface. As you already know, this surface comes into contact with your bike when you deploy the cover. And if it feels rough, it might end up scratching your bike finish—leaving it with ugly marks.
Again, this cover proves itself a unique model in that it comes integrated with a soft inner lining. This ensures it hugs and covers your bike without causing any scratches or marks whatsoever.
Extremely easy to use
YES, you don't need even any tutorial on how to use this cover on your bike. Just look at it, and you figure out everything on how you can use it on your bike.
It has an easy on/off design that allows you to easily and quickly put it on or take it off your bike at any time. It even comes with up to 3 adjustable straps and elastics that you can use to ensure the cover snugly fits your motorcycle for maximum protection against elements.
Oh! Don't forget that the cover also comes with dual reinforced lock openings for extra security. The cover will not only keep off elements but thieves trying to get away with your bike!
Display your license plate
It's a well-known fact that most cities, including New York, require your motorcycle license pace to be clear and visible when parking in public space.
Unfortunately, most motorcycle cover manufacturers forget this important aspect when designing covers, so they end up making products that completely hide your entire bike, including the license plate?
 The result of covering your license plate? you guessed it right…you might land yourself in hot soup for going against the law.
One again, Velmia proves to be ahead of its competitors with its unique design. This cover features a uniquely enlarged window (measures approx. 26 W x 40 H") on the back of the cover. This ensures that your license plate stays visible to avoid the attention of law enforcement and unnecessary fines.
Pros:
Cons:
Frequently Asked Questions
1. How many straps does this cover come with to keep it from being blown off in high winds?
The cover features a total of three straps, situated at the front, middle, and rear. However, the manufacturer urges you to use these straps just to achieve a snug fit; pulling them too tight might cause the cover to tear.
If your cover tends to flutter in strong winds, you might consider using additional securing straps to keep it in place.
2. How do I take care of this cover to make it last longer?
Very little maintenance is required to keep this cover working in top condition for an extended period of time. Periodically wipe its surface with lukewarm water to get rid of any dirt and grime build-up.
Ensure the inner surface stay clean too. And before each use, make sure that all the parts of the cover making contact with your bike are clean and dry.
3. Does the cover come with a warranty?
Absolutely. The VELMIA® Premium Motorcycle Cover is backed by up to 2 years warranty from the date of purchase.
During this duration, the manufacturer guarantees you that the cover is 100% free of any manufacturer or material defects, and they'll repair or replace it if your cover is defective.
Final Verdict
So, that's all you need to know about Velmia's Premium Motorcycle Cover. From this unbiased review, we can see that this cover ticks all the boxes for a premium motorcycle cover, including durability, breathability, waterproof, tear resistance, heat resistance, adjustable securing straps, and even license plate window.
Despite its premium quality construction and outstanding performance, this cover comes at a fair price tag. If you want a cover that protects your bike well and doesn't cost you an arm and a leg, get this Velmia today!