What Is A Bobber Motorcycle and What Makes it One?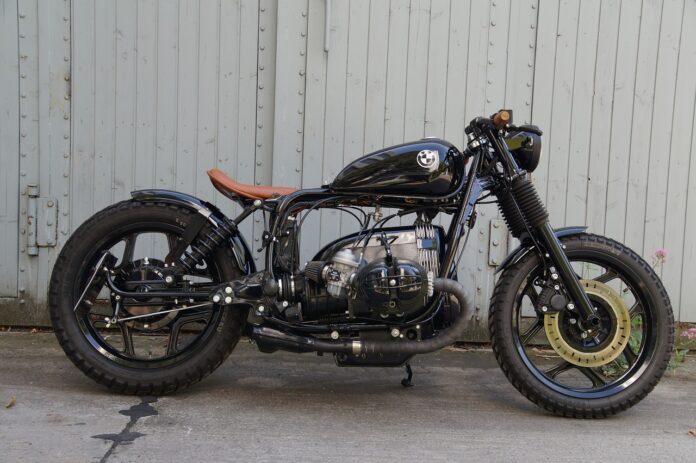 A bobber (bob-job) motorbike, by definition, is a one of a kind creation that shares its most basic fundamental elements with other motorcycles.
From that basic starting point, a bobber motorcycle then becomes a reflection of the rider designing and building it from the ground up. From a custom seat and paint job to unique controls and handlebars to hidden wiring, the possibilities and choices are limitless.
For many designers, a motorcycle transforms into a bob-job if the frame of the bike is modified as well, normally by making the whole bike shorter. Ever since the first bob-job hit the streets, this distinctive motorcycle design has been a popular choice for bikers who want to be unique.
Are you now interested in this unique bike design?
What Is a Bobber Motorcycle and What Makes it One?
When defining what is a "Bobber" motorcycle, it is a specialized type of custom-made motorcycle. It is entirely designed from scratch and embodies the vision of the creator who made it. Everything is unique and one of a kind, from the integration of a custom seat to the overall paint job on the motorcycle. It also includes modifications to the frame of the bike.
Brief History of the Bobber
By the design of early Harley-Davidson J model V Twin, it was inevitable that they would someday become bobbers. These were heavy-duty motorcycles designed more for comfort and long-distance touring than flat-out performance. Back then, motorcycle manufacturers and riders didn't connect very well. So, riders were forced to modify their bikes.
Motorcycle enthusiasts found out that they could make their bikes lighter, faster, and much easier to work on and maintain if they removed the unnecessary weight.
The most disposable parts were fork tins, saddlebags, crash bars, exhaust pipes, and fenders. Regardless of the parts that were removed, one thing is clear, motorcycle riders in the 1940s and 1950s were doing what passionate riders were doing. These motorbikes with removed parts came to be known as bobbers or bob-jobs.
They were the sport bikes ridden by stunt riders, racers, and badass bikers. But as the era wore on, more and more specialized bikes from Europe and Asia began to dominate the industry. 
Surprisingly, that didn't stop American riders from modifying their motorcycles. Once modifications were no longer based on increasing performance, the focus was turned to enhancing style.
Bikes became longer, leaner, lower; in other words, they became bob-jobs. These days, people are spending large sums of money to buy motorbikes that recreate these old school bob-jobs.
What is a Bobber Bike?
If you are new to customized motorcycles, you are probably wondering what makes a motorcycle a bobber. A bobber is a customized motorbike that has been stripped off all the extras and made to appear simple. A bob-job is a minimalist that has a superior power to weight ratio, translating to better performance. Normally, the fenders at the rear end are made smaller and the fenders at the front are removed.
How is a Bobber Different from a Chopper
The main difference between a bob-job and a chopper is that a bobber is normally designed around a standard frame, while a chopper frame is often cut and welded to suit. A bobber's power and attitude are defined by the low slung stance, less rear end, and slanting chassis suspension. The US is still the fatherland of bob-jobs, although they have been embraced by other cultures looking for a unique mix of attitude and power.
Choppers; on the other hand, are the boldest class of motorbikes in the world. They have a combination of eccentric features integrated into a highly customized design. For a bike to be regarded as a chopper, it must have undergone a major makeover near the steering and to the front end to provide enough room for the very long fork combined with the pulled-back handlebars and a smaller front wheel.
Benefits Of A Bobber
It should perform better when you strip a motorcycle to the bare frame. It will certainly go faster. A bobber has a higher power-to-weight ratio, making it easier to maneuver and control for beginner riders. 
A bobber is unique. You will be one of a few who owns one, if not the only one, and you can customize it to your heart's content. Bobbers look and feel great with comfortable riding positions and low handlebars. You do not need to have a lot of experience to ride a bobber. 
Bobbers require less maintenance, so they will save you some money in the long run. You can find a used bobber for a fraction of the price of a new motorcycle. 
The Most Popular Bobbers
The most popular bobbers out there are:
Harley-Davidson Street Bob
The Street Bob motorbike was a made-over Dyna, which represents the blue-collar workers of America. The Street Bob model's denim paint, solo seat, staggered exhausts, ape-hanger handlebar, and bobbed fenders, told everybody that this was a bike for Harley's more unique customers.
Today's Street Bob has been dramatically restyled in such a manner that you wouldn't notice immediately. Riding through the twisty mountain roads you will find the bike to be a whole lot of fun. You can throw out around corners with ease. The bike feels light and agile and it is incredibly easy to forget that you are riding a near seven hundred pounds cruiser. The mini-bars are controversial both in styling and positioning. But they give outstanding leverage and complete the Street Bob's fun to ride appeal.
At the front, you've got the innovative Showa dual bending valve features, while at the rear there is a hidden mono-shock. The front setup sorts most bumps, leaving you only to feel the largest of shocks and exceptionally improving handling. The Street Bob single disc brakes feature a four-piston fixed caliper up front and a two-piston floating unit at the rear. This unique setup is both progressive and instantly powerful when the need arises.
Triumph Bobber
Bob-jobs appeared in World War 2 era and were supposedly stripped motorbikes produced by returning servicemen from the war. Avoiding superfluous details, many customized bikes were based on Triumph Tigers and Speed Twins, customizers adding a tiny tank, single-seat with a rigid rear end, slash-cut exhausts, and fatter tires for dirt tracks.
Triumph Bobber considered these styling details, expertly adding modern features. The modern-day Triumph Bobber features a high torque parallel-twin engine to generate slightly less power and torque. But the most significant feature is the unique frame and linkage mono-shock rear suspension styled to duplicate a rigid rear end. The Triumph Bobber theme has been extended to a wide flat handlebar and minimal bodywork, instrumentation, and lighting.
A big surprise about the bike is its handling. It is not a long-wheelbase lump that will not go round corners. Instead, it likes corners and it feels more agile than it ought to be.
If you lift your weight off the seat, you will feel the shock reaching a full extension with the jolt. The ground clearance is enough to have fun without worrying whenever you are around corners. You might probably expect the pegs to go down, but they will not. The engine hits an impressive rev limiter of seven thousand rpm and a digital rev counter. The digital display shows the rev limiter along with gear position, average fuel consumption, current, time, range, and fuel level.
When riding this amazing bob-job, you don't need to rev that hard or go above six thousand rpm. The engine performs best between three thousand and five thousand rpm, propelling the bike from one corner to another in a meaty burst of acceleration with a surprisingly loud noise. The riding positions are quite natural and not extreme with your hands and feet just a bit out in front of you.
Indian Scout Bobber
The latest Indian Scout Bobber uses the same engine in the same state of tune as the standard Scout. The frame is the same apart from some modifications to the subframe.
The bike is lower with one-third of the already limited rear suspension travel removed. There is a single brake disk up front, which works well but does need a determined squeeze to get the best from it. The engine is good for about one hundred horsepower and ninety-eight Newton-meters of torque. Shorter mudguards or fenders are fancy-looking, but not very padded leather seats.
Extra blocky tire tread, blacked-out engine covers, and exhaust make the Indian Scout Bobber a great-looking bike. It may weigh just about a quarter of a ton, but it doesn't feel heavy when riding. The seat is absurdly close to the ground, making it easier for you to get your feet down. 
At slow speeds, there is no feeling of a flop in the front end or too much mass to deal with. Like most bobbers, the twin-engine of this incredible workmanship performs best between three thousand and four thousand rpm range. But what we find most interesting about this machine is the fact that it likes to rev, if you are up for it.
If you are in the mood, this bike is willing to play and not scare you to death in the process. Certainly, that ability may remain hidden to most customized bike riders. As we mentioned earlier, there is quite a bit less suspension travel on this minimalist bike. So, make sure that the driveway to your residence is well-paved. Overall, this bike is more agile and fun around the corners.
Yamaha Bolt Bobber  
Regarding authenticity, Yamaha Bolt is the closest Japanese bobber on the market. It combines Japanese motorcycle manners with original bobber styling. One appealing aspect of the Bolt is that there is still plenty more bobbing that can be done to it. 
It still features the 60-degree V-twin engine with plenty of low-end torque and solid power. The solo seat, compact chassis, sculpted 3.4-gallon fuel tank, and short fender are standard bobbing cues. Front and rear stand-out 12-spoke wheels plus steel fenders add to this Yamaha Sports Heritage line motorcycle's bobber style.   
The Yamaha Bolt stripped-down spare looker is spot on. It has a low seat height and an upright riding position that allows the compact chassis' features to be taken advantage of when bobbing. There are all sorts of inspirations for the saw with the Bolt. 
Yamaha put the Bolt onto the market as an urban performance bobber even though it is a dead ringer for direct competition with Harley's Sportster, which is also a good thing. 
Those that cannot afford the Sportster can undoubtedly look to the Bolt, which is prized at just $8,000 at the time of writing. The Yamaha Bolt R-Spec with upgraded suspension and wheels will set you back a further $400.    
The Yamaha Bolt has an LED rear tail light and compact digital LCD meter assembly that gives fantastic visibility with excellent styling. A 61.8" wheelbase and double cradle frame make for precision handling thanks to the engine being mounted directly onto the frame by Yamaha. 
It is a minimalist approach by Yamaha on the Bolt, with the 21mm belt drive adding to the slim rear-end look. The seat height is 27.2", allowing both feet to rest on the ground at a stop for most riders.  
Moto Guzzi V9 Bobber
It looks simple, but the rubber supports on the aluminum rider footer pegs for reduced vibration shows that nothing was left to chance in designing the V9 Bobber by Moto Gucci. There is room for improvement, but the design alone gets the V9 Bobber very close to looking like a bobber. 
What starts out as a two-passenger seat is turned into a thin and trendy single-seater by removing the passenger saddle. You can put back the removable saddle as and when you need it. This thinner seat and the chopped fenders accentuate the Italian bobber vibes on the V9 Bobber.
The ground clearance on the V9 Bobber is 30.9" with a kerb weight of 462.9lbs giving the rider great control and comfort in tight urban rides. A 90-degree, 850cc V-twin engine is centrally located with a dark theme that runs through the entire bike. The V9 Bobber has standard double channel ABS and traction control for added safety.  
There is a completely digital instrumental panel and full LED optics with a DRL headlight. The US model does not come with LED turn signals, though. 
The 3.9-gallon solid steel fuel has the same matt black finish seen on the exhaust, mudguards, and aluminum side panels. There is a bulkier theme as well with the 16" tires and thick pipe. 
Visit Joshua D. Mattie's article on "Best Rear Shocks for Harley Davidson Touring".
How to Build a Bobber Motorcycle
Are you interested in the modern rebirth of bob-jobs? You certainly should, because it is more fun to build your bobber bike than getting a brand new one from a shop.
Look for a Customizable Bike
We all need to start somewhere, maybe an idea or a bike you have seen and badly want. Do you have a preference for a given engine type? In reality, any cool, inexpensive motorbike can be redesigned with any big twin. It is what you make of it that makes that end product cool.
In most cases, many do-it-yourself (DIY) projects started on the wrong end of the build many times. Maybe a frame here and a motor there, it's okay to get it wrong the first time. To avoid any possible mishaps, you need to do a deep search.
You might be lucky enough to already own a bike that you want to use for your project. Maybe that old Honda or Suzuki that is sitting around your uncle's garage. If you cannot find a free old bike lying around somewhere, the next best option is to buy a cheap retro motorbike you can find. Make sure you get a bike that is designed for customization. One of the best recommendations for this project is Honda CB.
The Build
As with every build, you have to strip things away bit by bit. Essentially for a bob-job build, you may have to take everything off, including the tank because minimalist bikes need specific tank types.
So, take the seat off first, and the air filter. The whole back end is not going to be necessary. So, we might as well take everything off. Certainly, the rear mudguard has to go. We are going to put the engine to one side just for a moment and concentrate on the shape of the frame.
The wheels are not important and they will have to come off as well as the handlebars and the front forks. This leaves us with a frame and the fuel tank on top.
With a bobber, you've got this distinct line that you need to follow through. The line goes from the very top of the handlebars down to the bottom. To get an ideal bob-job frame, you may have to take the back of the frame off for the time being. This leaves us with half a frame and a fuel tank.
Put a hardtail on the half frame. You will straight away see how that line from the front to the back goes down to the midpoint of the rear wheel. Add a chunky tire to the rear and another in the front. Then add some new handlebars on the top, including bob-job forks.
If we take the fuel tank off, you will see more of that line we were talking about from the top of your triple tree back down to the rear wheel. This is what gives a bob-job its seating position. Whereas with a Café Racer you are leaning forward, on a bob-job you sit more upright.
After you're satisfied with how your bike looks, put the engine back so that you can have a look at the transformation. It takes some skill to get the measurements right.
A bobber fuel tank ideally suits it when it is a peanut shape to maintain that line from the front to the back. Finally, you need a seat that is integrated with springs for a smoother ride. Add a fat bob fender at the rear and don't forget the exhaust.
FAQ
Q: What is the point of a bobber?
A: Removing extra and unnecessary parts on a motorcycle gives it a minimalist look with better performance.
Q: What is the difference between a cruiser and a bobber? 
A: Cruisers are typically heavier motorcycles with larger engines suited for long distances. Bobbers are custom-style motorcycles trimmed down for better looks, speed, and performance. 
Q: Can any motorcycle be a bobber?
A: No. Bobbers are usually made from choppers and cruisers.
Q: Are bobbers good for beginners?
A: Yes, because they're easier to control and lighter with lower seat height. 
Final Thoughts
You finally have a detailed and more elaborate answer to the questions, "What is a bobber motorcycle?" You needed this information because you had a hard time understanding the concept of a minimalist motorcycle compared to a Café Racer. You are also able to differentiate a bob-job from a chopper bike, which is usually very confusing for new riders. 
Having known what a bobber is and why it is such a unique masterpiece. We thought you could try building one to your liking from the ground up. Our detailed explanation may appear simple, but you need to be good with measurements. When building a bob-job to your liking in your garage, fabrications are not important. We are saying this because most of the work involves stripping things off. 
Instead of cutting some parts of the frame to force it to slant downwards, just fit a hardtail for a more genuine look with superior structural integrity. In other words, don't spend too much time forcing parts to fit, if you can so easily replace them with more befitting options. Pro tip: the detail is in the frame (how you will get it to slant from the triple tree to the rear wheel).
There you have it guys, detailed information on bobber motorcycles. Now it is your time to embrace the new culture. Be a badass rider like the American legends cruising in style through the neighborhood and in town. Define who you are and what you are through your bob-job motorbike.