Who Makes Better Motorcycles, Harley-Davidson or Triumph?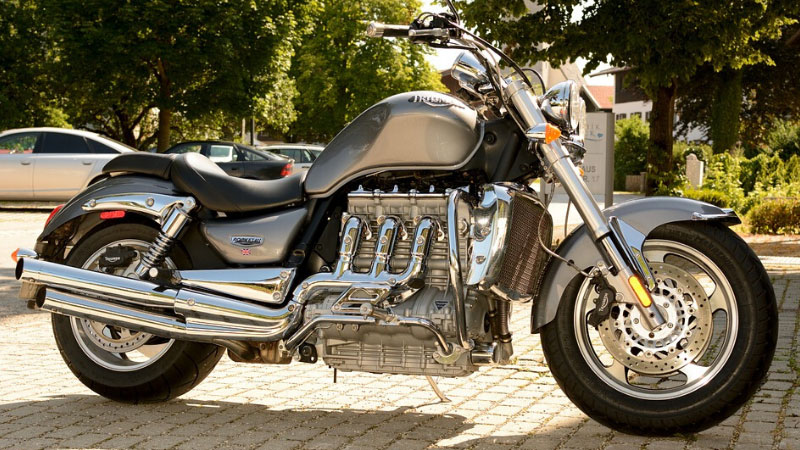 Fans of anything, especially of a sporting nature, will ultimately divide themselves according to their interests and obsessions. For motorcycle enthusiasts, two key camps are the lovers of Harley-Davidson vs those who prefer Triumph motorcycles.
Obviously the most obvious distinction is that Harley-Davidson is an American company and Triumph is British. Both bikes are symbols of adventure and a superior lifestyle of comfort and elegance. Accordingly, they are both pricy and high-status in biking circles.
The big question is: which bikes are better, Harley-Davidson or Triumph?
Variety
Triumph offers a wider range of heavy motorcycles for its customers. They have sports bikes, street fighters, cruisers, retro bikes, and sport tourers.
In contrast, Harley-Davidson manufactures two heavy motorcycle types: the cruisers (aka bar hoppers) and long haul tourers. For instance, the 883 Sportster is a bar hopper, considered one of the best one-person bar hoppers. The Electric Glide Ultra, on the other hand, is a long haul tourer. These are the best models in each of these two niches - if they are not what you are looking for, Triumph could be a better option.
If you are looking for something that gives you more choices when it comes to heavy motorcycles, Triumph is a better choice. Triumph makes bikes for all sorts of bikers, but the Harley has only two types.
On the other hand, if you are looking for a one-person bar hopper, your best choice would be Harley-Davidson's 883 Sportster.
Bike riders' tastes change over time. As you grow older or more skilled or different as a person, you will want to try something different. At different points in your life, you will be attracted to different brands or models.
Performance
Many Triumph motorcycles can outrun their Harley-Davidson counterparts. An exception is Harley-Davidson's 883 Sportster vs a basic Triumph Bonneville. Most people consider the 883 Sportster to be the best one-person bar hopper.
Furthermore, for bigger bikes, the performance differential becomes even larger. For instance, Harley Davidson's Rocket III Tourer is definitely superior to Triumph's Road King.
Brand Power
Not everyone cares, but brand does matter. When it comes to brand power, Harley-Davidson is ahead. In fact, most non-bikers are more likely to know and admire the name "Harley-Davidson" than "Triumph". The Harley-Davidson brand is part of pop culture, and their bikes are in the movies.
The Harley-Davidson brand is a cultural icon. Why this matters: because a big part of the appeal of riding motorcycles is coolness.
People want to feel cool, and the motorcycle riders are considered to be the coolest of the cool. When your motorcycle brand has an iconic name and its bikes have a sleek look of power, luxury, and high status, it's only natural that many people, particularly newbies, will want to be a part of it.
Furthermore, and most importantly, the ubiquity of the Harley-Davidson brand means that you can have them worked on anywhere, whether it is repairing, upgrading, or having parts swapped. It is not difficult to swap parts like a Harley Davidson headlight, or to fix the windshield or upgrade the battery.
It is easy to quickly find a Harley-Davidson dealership close to your location. Triumph is not as ubiquitous. However, among seasoned bikers, Triumphs is popular for the performance and technical capabilities of its bikes.
Ease of Use
Everyone wants to ride motorcycles because people who do look so cool. However, most people do not go beyond wanting, because of the learning curve. Some bikes make learning easier, and some are not as friendly to the beginner.
The nice thing about Harley-Davidson motorcycles is that they are not very demanding, which makes it easier for the rider to attain the necessary competence level. Some other bikes may require more rider competency.
As we said, Triumph bikes are rather popular with seasoned riders.
Ride Quality
Ride quality is one of the key factors buyers use to gauge if they should purchase a bike (or car). It refers to the bike's ability to insulate the rider from bumps or potholes in the road surface. When a bike has good ride quality, one is able to ride in comfort. When ride quality is high, you can ride for long periods of time without stopping for a break.
Opinions on ride quality, however, can be relative as what some people dislike may be what others like. For instance, while Triumph bikes provide a smooth ride, Harley bikes have vibrations and mechanical noises - but some people enjoy that.
Retro vs Modern
Harley-Davidson bikes have a more traditional or olden style, for the sake of nostalgia. The Harley-Davidson brand is built on this, just as many great wines or luxury items. You get the sense that a Harley-Davidson bike is an imperishable commodity, a classic. This is what their customer base wants from their bikes.
On the other hand, Triumph has a more modern outlook and production plant. Harley-Davidson may be held back by its heritage or customer expectations, but Triumph has the freedom to make bikes that are modern and technically advanced. This may explain why they have a larger range of available bikes while Harley-Davidson focuses on cruisers and long haul tourers.
Note, however, that Triumph has its own nostalgia bikes too. Like Harley-Davidson, Triumph has a glorious past and capitalizes on that with models which have a retro look and style. Modern Triumph bikes feature technology such as ABS and traction control, digital displays, and comforts such as heated seats.
If you are looking for something more traditional, the Harley-Davidson is the choice. For a more sporty, modern ride, pick Triumph.
Final Verdict
Harley- Davidson and Triumph service different niche markets. People who buy Harley-Davidson may be looking for something they don't get from Triumph motorcycles, and vice versa. As you have seen in our breakdown, each has its own advantages. These are two different niche markets.
Figure out what you want and go for the one that offers that. For instance, if you want something with a more classic look, a Harley-Davidson motorcycle is a better choice. For a bike with a more modern design, a Triumph will do.