XYZCTEM Motorcycle Cover: A Proper All-Season Protection?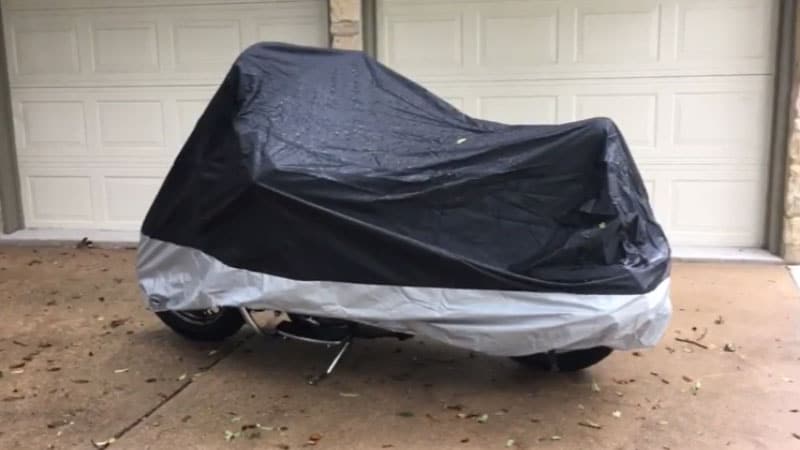 If you have you tried all the extra-large (XL) motorcycle covers and nothing seems to fit your motorcycle, you should try this extra extra larger (XXL) XYZCTEM Motorcycle Cover.
Made for all-season use, this XYZCTEM promises to protect your motorcycle from all sorts of elements—including rain, dirt, dust, UV, and more—that might end up damaging not just the looks but all the functionality of your bike.
Before you order this cover, read our full review below to discover whether it will indeed protect your bike in all seasons, as the manufacturer claims.
Features and Benefits
A quick overview of this motorcycle cover shows that it comes packed with some of the most desirable features you can expect to find in a good quality motorcycle cover. Let's get to know more about the features and benefits you'll get when you buy this cover…
Maximum weather protection
One of the reasons why this cover is termed as "all-season" is due to the maximum protection it offers your bike against all the weather elements.
The cover features high-quality nylon oxford materials, which boasts of excellent waterproof capabilities. When you cover your bike with this cover in the rainy season, the rain will bead and run off the cover, just like the rain beads you see on a car's waxed paint. Not a single drop of water will penetrate the bike and get to your bike. No matter how many rains the cover goes through, you'll get your bike as dry as you left it when the rain stops.
Not just the rain, but this high-quality material will also shield your bike from dust, debris, snow, UV rays, and other unwanted elements. Even if you utilize it in strong winds, over 100kph, the cover will stay put on your bike and won't tear, rip, or flutter in the wind.
This qualifies it as one of the best motorcycle covers for outdoors you can find on the market today.
Well ventilated bike cover
Another cool thing that makes this cover stand out involves the ventilation openings it comes with. We did some research and found that not many manufacturers bother to include breathability function in their covers, especially the low priced ones…so it's a big plus for this pocket-friendly model.
The fabric itself has excellent breathability that helps release moisture and reduce heat inside your covered bike that could otherwise promote the growth of molds and mildew. These can seriously affect your motorcycle paint job or your leather seat, saddlebags, and other sensitive parts, leaving you with costly damages and repairs to make.
Universally fitting cover
The ability of a cover to fit your bike perfectly is what enables it to deliver maximum protection against elements and unwanted hands.
That said, finding a good fitting cover might not be an easy task as different bikes require different sizes of covers. You'll need to take measurements of your bike and match it absent the cover dimension to ensure you chose the best protection.
When it comes to this XYZCTEM cover, it comes in the extra-large size, which enables it to easily fit nearly all off-road standard-sized bikes that measure up to 108 inches. It snugly fits a wide variety of motorcycle models form regular brands like Harley Davidson, Honda, Suzuki, Kawasaki, Yamaha.
However, keep in mind that this cover might not perfectly hug your motorcycle if you have modified with extras such as saddle bag, sissy bar, windshield, etc. This is a non-issue, however, as you can get this cover in XXXL size from the same manufacturer.
Tough, long-lasting construction
One of the many benefits of the high-quality nylon oxford materials used to construct this leather material is incredible toughness and durability.
It has excellent windproof capabilities that enable it to resist potential tearing and ripping from strong winds. The manufacturer uses double stitching on this cover to further enhances its windproofing and longevity.
The material is also resistant to all the harsh weather elements, including the sun's UV rays, which enables it to remain fade-free for years.
Despite all this toughness, this material appears thinner than other cover materials. This makes it easily foldable for hassle-free storage and transportation to any place.
Easy, quick installation
Just like most of the high-end covers out there, this model is extremely easy and straightforward to use.
You just need to slide on its anti-scratch protector and then deploy its elastic hems to secure it in place, even when it gets windy outside.
The front and rear end elastic hems will keep The cover in place for as long you want it to. If you want, you can also use the lock holes and buckle straps for added cover security.
Pros:
Cons:
Frequently asked questions
1. How do I know if this cover will fit my bike?
It's not easy to tell whether this cover will fit your bike without taking some measurements. If you own a standard motorcycle from those popular brands, without aftermarket modifications, however, this cover might fit your motorcycle well.
Generally, if you're looking for a replacement cover and your old one is size extra-large (XL), then the probability of this cover fitting your bike is pretty high!
2. Does the cover come with some locking mechanism?
The cover comes with aluminum reinforced dual lock openings to enable you to use a lock of your own for added security of your bike. This is essentially what you'll get in most of the top-rated covers out there.
Photo:xyzctem.net
3. Does the cover come with a warranty?
The cover is backed by a 1-year manufacturer warranty against all the manufacturer material defects. The company promises your hassle-free return or replacement in 12 months from the date of purchase.
Final Verdict
The XYZCTEM Motorcycle Cover is made from oxford nylon material that has excellent waterproof capabilities. It also keeps off the dust, grime, and other weather elements. With the aluminum lock holes and dual windproof buckles, this cover is sure to stay in place during strong winds. The material also feels tough, so it can withstand all will serve you for longer.
Overall, the motorcycle will give you peace of mind knowing that your bike is protected in all seasons. Because it comes at a pocket-friendly cost, every rider looking for a dependable all-season motorcycle can get one today!