What Would Your Perfect Three Motorcycle Garage Be?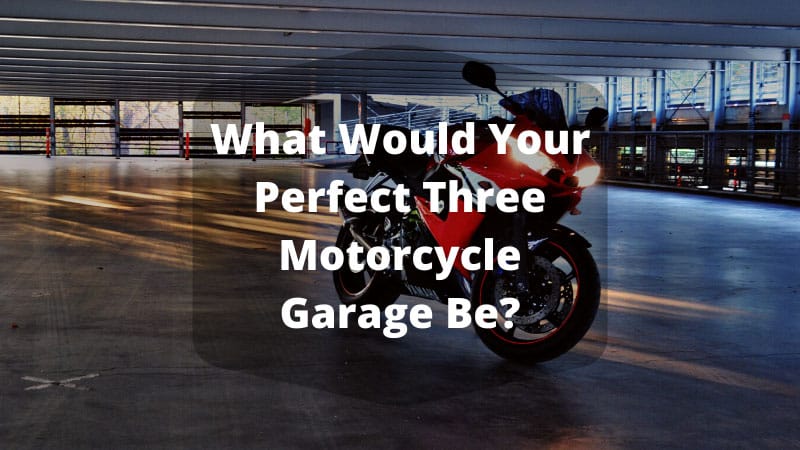 Every biker with unmeasurable love for motorcycles have their dream motorcycle garage in mind. You can always picture all your dream bikes sitting in your garage.
But then again, most motorcyclists prefer limiting their dream motorbike garage to 3 bikes only.
This brings up the question of the perfect combination of bikes for your garage. Which 3 motorcycles should your 3-bike garage feature.
We consulted expert bikes on the perfect bikes to include in your motorcycle garage and found varying opinions which we'll share with you shortly.
FIRST things first…
Should you own more than one motorcycle?
There's no direct answer to this question, as how many bikes depends on what you want to use your bikes for as well as your purchasing power.
Having more motorcycles in your garage isn't greed as some folks like to put it. it's all about meeting your unique needs and preferences. Having one motorcycle in your garage is still acceptable, if you only rid occasionally, say on weekend spin around your town when the weather is good, but has other hobbies that mean more to you.
For a true motorbike lover whose hobbies revolve around motorcycling, having more than one motorbikes in your garage is definitely a good thing!
Having many bikes doesn't make your biking life hard as most folks tend to put it. We love the fact that there are universal bike repair and maintenance tools such as the lift table, tire changer, motorcycle ramp tire repair kit wheel chocks, etc., which work with all your bike models.
This means you don't have to buy the repair and maintenance tools for your different bike models separately.
The problem is figuring out the specific types of bikes you should include in your garage.
What 3 Bikes Should You Feature in Your Garage?
In this case, we're talking about 3-motorcycle garage. The 3 motorcycles that you'll need in your garage will depend on what types of rides you plan to make with your bikes.
Ask yourself—what do I intend to do with the bikes? The answer to this question will help you invest in 3 specialized rides to meet all your riding needs.
This simply means that one biker's lineup of 3 motorcycles can be completely different from that of another biker.
One motorcyclist explains that "if a catastrophe wiped my garage today and I was presented with a huge insurance check, I'd buy these three types of motorcycles: a sport touring bike w/luggage, a sport bike for track, and electric motorcycle for making every day rides (less than 50 miles)."
Most bikers seem to agree with this lineup but some would still tweak it a bit to meet their unique preferences.
Another expert, Daniel Wallander, who has spent over 40 years riding and wrenching his own bikes stays that his perfect lineup would include these bikes: a nice touring bike to make the long distance trios he's obsessed with, a dual purpose bike for the days he'd want to run the road before hitting the light trails, and a lightweight dirt bike for roosting away in dirt.
A George Erhard, who has been riding since 2003 has what he thinks is the perfect lineup for every biker's motorcycle garage. This includes a track bike that doubles as a canyon carver, a touring bike that acts as a vacation machine, and a commuter bike.
And then there's Henry Bennett who outlines his perfect 3 motorcycle garage as follows:  a Kawasaki Ninja which he'd use as a daily bike, a Ducati 1199 Superleggera for trackdays as well as weekend cruises, and Harley Davidson Fat Boy (with aftermarket exhaust) just for the sound and crackles.
Listening to what some of the biker experts about to say about their perfect 3 motorcycle garage, it makes even more sense that what bikes you should own simply depends on your specific biking needs.
Your bike lineup doesn't have to be similar to that of your fellow biker.
Over time, your biking needs may change. And you can always change your lineup to meet those needs. For instance, you might not need a track bike now, but a few years later, you might get into hitting tracks and you'd want to introduce a track bike into your lineup.
Our Verdict
Owning more than one bike isn't a bad thing, especially if your hobbies revolve around biking. How many bikes you own will simply depend on what you need each bike and for and your purchasing power.
If you intend to come up with a 3 motorcycle garage, the lineup of motorcycles you'll have in there will depend on your specific riding needs and preferences. As we have seen above, different experts have different views on what types of bikes to include a 3 motorcycle garage.
But one thing that we found common in all their lineups was a daily commuter bike. The other two bikes would depend on hat other kids of rides you wish to make.