Zoan Defender Helmet: How Good Is It? – BikersRights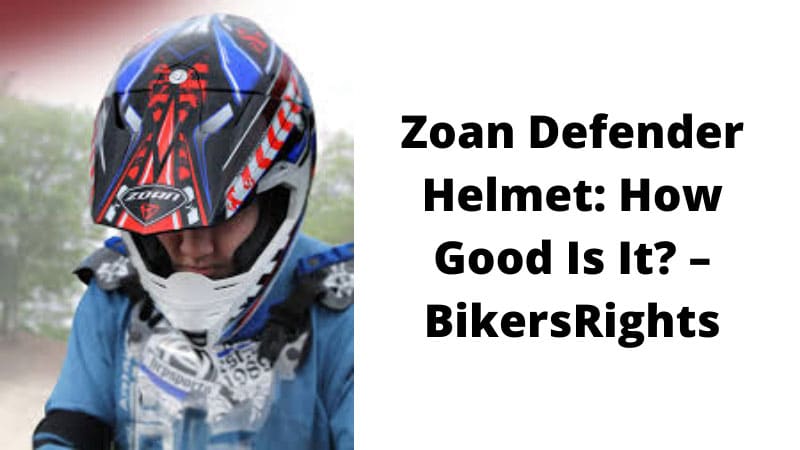 The Zoan Defender Series are full faced helmets that are DOT AND ECE 22.5 approved. There are two EPS sizes to accommodate an XS to XXXL size run. Zoan Defender Helmets are constructed from a thermoplastic composite for added fit and strength while maintaining a light weight to avoid neck fatigue.
The interior is advanced EPS in the head, lateral cheek and frontal area. The Wildness graphic has matching graphic interior. (All Defender liners are removable for washing). The liner is made of high tech material that is self wicking keeping you cool on the hottest riding days.
The Zoan Defender Series helmets have tool-less removal and dark tint inner sun shield with a left side control. This avoids any noise or leaking as opposed to a top control. This helmet has a large jaw and forehead intake vents with four exhaust vents for a great air flow. The vents are positive touch depression so that even with a gloved hand the rider knows if they are open or closed. With a suggested retail price of $129.95 to $149.95 (depending on your choice of graphics), you will find a top quality helmet with safety ratings and fit and finish of helmets with twice the retail price.
The Zoan Thunder full-faced helmet is also DOT and ECE 22.5 approved. With two shell sizes to accommodate an XS thru a XXXL size run, it has all of the same construction features as the Defender series but not have an inner tint shield. The Zoan Thunder also has a 3D, hard coated design shield with optical cold weather double lens or electric shield available. The vents are flip style on the forehead, top and rear for added ventilation and comfort. With a suggested retail price of $89.95 for solids and $99.95 for graphics, this helmet will outperform the competition in fit and finish, style and safety for up to a third of the cost.
Watch this video see more about their recent Zoan Modular helmets: